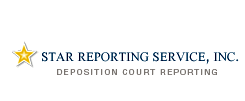 Star Reporting Service has always displayed a high degree of integrity, responsibility and professionalism when working with our staff and the Access Appeals Commission
San Francisco, CA (Vocus/PRWEB) July 02, 2011
Star Reporting Service announces that for more than 30 years, it has provided continuous and personalized services to the legal and private communities of the Bay Area. Family owned and operated, Star Reporting Service, Inc. understands that its work is of vital importance.
Court reporting is a contemporaneous method of recording words and other non-verbal events in any setting, such as courtrooms, deposition conference rooms, seminars, meetings, or groups. These words are often disseminated to the media to keep citizens informed on important legal cases within the community. They are also recorded for future trials or other legal proceedings that will look back on the proceedings for an accurate recap of the testimony.
Court reporting is an extremely vital and important mechanism in facilitating accountability, affording the legal community, litigants and the general public independently an opportunity to evaluate their due process and the availability of equal protection.
"Star Reporting Service has always displayed a high degree of integrity, responsibility and professionalism when working with our staff and the Access Appeals Commission," said Richard Halloran, Secretary of Access Appeals Commission.
Star Reporting Service, Inc. provides any legal information that includes labor law, personal inquiry, corporate law, employment law, medical malpractice, patent law, defect liability and consumer law. The agency has evolved and enhanced its methods and technology in stenography and video recording, or as it is sometimes referred to, "videography," with the emergence of CAT, computer-aided transcription and digital audio recordings.
Star Reporting Service, Inc.'s licensed and certified shorthand court reporters have adopted computer-aided transcription which allows the court reporter's keystrokes to be recorded on a disk in the internal memory of the computer or on a paper tape which can then be translated into a draft or unedited text.
Customers can call to reserve the company for a deposition at (415) 263-9015 and receive a complimentary room. For more information on other services provided by Star Reporting Service Inc., contact them via phone or visit their website at http://www.starreporting.com/.
About Star Reporting Service, Inc.
Star Reporting Service, Inc. is a family owned agency that has covered Northern California for 30 years, giving continues personalized service to the legal and private communities though their court reporters and court stenographers. Star Reporting Service, Inc. is a reliable source, serving the community 24 hours per day, 7 days per week. They offer attractive recession rates and credit is extended for reoccurring clients.
###