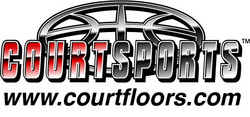 Camas, WA (PRWEB) December 26, 2010
Courtsports Inc, the Pacific Northwest's premier athletic flooring company has expanded its full line of products and services across the United States! Courtsports Inc. has been a fixture in the Pacific Northwest for over 14 years and are now proud to announce that they have expanded nationwide. This fall, Courtsports Inc. completed two installs (complete with graphics and logos) for a YMCA in Reading, Pennsylvania. The work was completed in a timely manner resulting in an extremely pleased customer. Prior to the trip to Pennsylvania, the Utah Jazz selected Courtsports Inc. for a "facelift". The Utah Jazz desired to change the overall look and design of the floor returning to a more "retro" look. Over the Winter break crews will be out in Montana and Idaho, as well as in Oregon and Washington. In their local area, Courtsports Inc. just finished a 40,000 square foot YMCA which is utilized for tournaments, city leagues, and daily recreational activities. Courtsports Inc.'s next cross country project will provide a crew to travel from Portland, Oregon all the way to Pennsylvania and New York.
In addition to maple hardwood services, Courtsports Inc. also offers a FULL line of products designed to help their customers in keeping their gymnasium floors clean, tidy, and traction tight, as well as their award winning finishes and paints called the Defender Line. Proudly, 19 NBA teams and hundreds of colleges and universities utilize products by Courtsports Inc.!
Feel free to visit http://www.courtsportsinc.com to peruse a complete portfolio of floors, products, and services by Courtsports Inc.
If you are interested in becoming an authorized Courtsports Inc. dealer please contact Erik Sigurdson at service(at)courtsportsinc(dot)com.
###