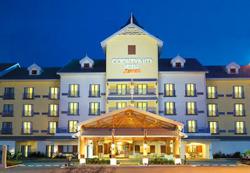 Port of Spain, Trinidad and Tobago (PRWEB) July 14, 2011
The Taste of the Caribbean Competition, which invites food and beverage teams from hotels around the Caribbean, is widely held as one of the most prestigious competitions in the industry. This year, the Trinidad & Tobago team won their fifth Team of the Year Award. The team was led by the Courtyard Port of Spain Hotel's own Head Chef Raymond Joseph.
A Trinidad & Tobago team member received additional honors. Jeremy Lovell, a chef at e Courtyard Port of Spain's Trinidad restaurant, earned a bronze medal in the Certified Angus Beef Competition.
The Trinidad & Tobago team has won the Team of the Year Award in 2011, 2009, 2007, 2006 and 2004.
This was the first year that Head Chef Raymond Joseph led the Trinidad & Tobago Team, composed of entirely new team members. Head Chef Raymond Joseph has been instrumental in developing the signature dishes at The Centro, a Trinidad Restaurant located at the Courtyard Port of Spain Hotel. Some of the dishes served at The Centro include smoked herring, fried plantains, scrambled eggs and coconut bake; fried shark nuggets, pumpkin choka, tamarind sauce and coconut bake; fish broth soup; Cajun-style fish fillet; and a special Centro chicken sandwich, with egg, cheese and guava jam.
Those who wish to sample these award winning dishes can book a room at this Port of Spain, Trinidad hotel today. This International Courtyard Hotel is one of the first to implement the Centro Bistro concept and has incorporated unique Caribbean tastes into the cuisine.
About the Courtyard Port of Spain Hotel
Guests can discover an urban oasis in Trinidad & Tobago at the Courtyard by Marriott Hotel in Port of Spain. This stylish Trinidad hotel features 119 guest rooms and sophisticated suite accommodations with comfortable beds, large work desks and free high speed Internet access. Located near the heart of the bustling downtown Port of Spain, the Courtyard by Marriott hotel is within walking distance to the Movie Towne Entertainment Complex which includes theaters, shopping, restaurants and the Hasley Crawford National Stadium. Guests can host a memorable Port of Spain meeting or business event in any of the hotel's versatile conference rooms. This contemporary hotel also creates the perfect setting for a small business dinner or social gathering. Experience modern comfort in an atmosphere of genuine Caribbean hospitality at the Courtyard by Marriott Port of Spain in tropical Trinidad & Tobago. For more information, visit http://www.marriott.com/POSCY
About Courtyard by Marriott
Courtyard by Marriott offers a refreshing environment that helps guests stay connected, productive and balanced. Intuitive services and design accommodate guests' needs for choice and control. With more than 860 locations in 30 countries, Courtyard is Marriott's largest brand. All Courtyard by Marriott hotels participate in the award-winning Marriott Rewards frequent travel program that allows members to earn hotel points or airline miles for every dollar spent during each stay. For more information, including guest guided video tours of the new lobby and the latest brand information, visit http://www.gocourtyard.com. For reservations, go to http://www.courtyard.com or contact a travel professional.
###