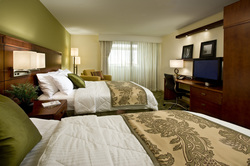 Our hotel features this amazingly redefined lobby space that invites guests to get out of their rooms to work, socialize or for entertainment, whether traveling alone or with colleagues.
Boynton Beach, FL (PRWEB) October 23, 2008
The new Courtyard Boynton Beach in southeast Florida opened Friday, October 17, 2008, showcasing Courtyard by Marriott's new stylish and modern hotel lobby of the future.
"We know that today's business travelers want more control and more choices with services and amenities that create a balance between working and relaxing," said Chris Moulton, General Manager, Courtyard Boynton Beach. "Our hotel features this amazingly redefined lobby space that invites guests to get out of their rooms to work, socialize or for entertainment, whether traveling alone or with colleagues."
In the open, bright and contemporary new hotel lobby of the Boynton Beach hotel, the traditional front desk is replaced with separate welcome podiums designed to create more personal interactions between staff and guests. Among the flexible seating options is a communal table in the middle of the action, more private media booths with high-definition televisions, and a more intimate, semi-enclosed lounge area.
A signature element of the imaginative new lobby space is the exclusive Courtyard GoBoard™, a 52-inch LCD touch screen packed with local information, maps, weather, and news, business and sports headlines. Guests can navigate using the touch screen to find popular Palm Beach area restaurants, attractions and directions. The Marriott Courtyard hotel lobby also features free WiFi, ample electrical outlets throughout the lobby to power digital devices, a business library with several complimentary computer terminals, along with a free printer and separate computer stations dedicated to printing airline boarding passes and checking flight status.
Lobby dining has also been completely redesigned with casual, flexible seating; easier access to food and higher quality, healthier menu options for breakfast and lunch; and light evening fare, including snacks, wine and beer so guests can unwind. The Market™, a 24/7 shop for snacks, beverages and sundries, is always open for late-night cravings or forgotten travel items.
In addition to the trend-setting modern hotel lobby, the Courtyard Boynton Beach includes an extreme makeover of the hotel's 170 guest rooms. Stylish and innovative, rooms feature Marriott's highly-acclaimed, plush bedding and bath linens. Other guest room amenities include high-speed Internet access, a large flat screen TV, a large well-lit work desk, comfortable ergonomic chairs and a coffee maker. The Courtyard Boynton Beach features 18 two-bedroom suites with a king-size bed and a queen-size bed and full kitchen including stove, refrigerator and microwave oven. Wireless Internet access is available throughout the hotel.
The four-story hotel offers 5,000 square feet of meeting space to accommodate small meetings and functions of up to 300 people. Other guest amenities include an outdoor swimming pool with whirlpool spa, fitness center and guest laundry.
Centrally located between Boca Raton and Palm Beach, the property is minutes from Palm Beach International Airport and within walking distance to the area's many shopping and dining hot spots.
The Courtyard Boynton Beach is managed by Ocean Properties, Ltd. Hotels & Resorts, a full-service management company headquartered in Delray Beach, Fla. It is the first in Florida, and the first of three Ocean Properties hotels, to be reflagged and updated to include the new Marriott Courtyard hotel lobby. For more information call the Courtyard Boynton Beach directly at 561-737-4600, or for reservations call 866-733-8554, contact a travel agent or visit the web site at http://www.courtyard.com.
For a virtual tour of the new lobby, go to http://www.gocourtyard.com.
###