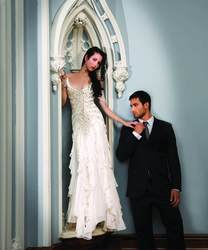 Toronto, ON (PRWEB) August 14, 2008
Bridal gown designer Sarah Houston is unveiling her new Spring/Summer 2009 collection of couture wedding gowns at next month's BBEH in Harrogate.
This latest collection consists of over 15 couture bridal gowns cut from lush satin crepes, silk chiffons and silk organzas with each dress immersed in textures designed to flow. Subtle finishing touches such as soft pleats, fluid lines and vintage beadwork are all infused into this new collection.
The styles of these wedding dresses are a direct reflection of Sarah Houston's design philosophy combining timeless romanticism and old world charm while still capturing the essence of today.
Sarah Houston's new couture bridal collection will formally debut at the Harrogate International Centre on Sept. 7-9, 2008 in Hall Q Stand Q54.
For additional information on Sarah Houston's line of wedding dresses or to view the gown collection please visit their website at: sarah-houston.com
About Sarah Houston Inc.:
Sarah Houston is an international designer specializing in couture wedding gowns.
Sarah Houston Contact Information:
Email: info @ sarah-houston.com
Tel: 1.800.221.6117
###