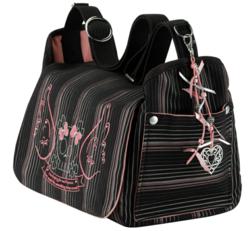 The ideal diaper bag to satisfy those who have a passion for fashion!
(PRWEB) July 11, 2011
With names like "The one you can take out to dinner," "The one with the bling!" and "Father's day out," Angelic by Nikki has re-designed the changing diaper bag with style. Now introducing the luxurious diaper bag that everyone is already talking about!
"Angelic by Nikki" was created when designer Nikki Toumazides Grivas became a mom herself, and started searching for the ideal diaper bag. With over 15 years of experience making handmade christening gowns and nursery room decorations, Nikki decided that changing diaper bags needed a "face-lift!"
As many other moms will tell you, it's difficult to find a diaper bag that satisfies the need for quality, design, practicality and space in just one bag. So, she decided to make her own diaper bag just the way she wanted it!
The ideal diaper bag for those who want to make a statement!
With every detail carefully thought through to satisfy the demands of todays busy moms and dads, Nikki's baby diaper bags are functional as they are beautiful. Angelic by Nikki bags are handmade using the finest of quality fabrics including suede, cashmere and velvet and generally fabrics that do not make you think that they are diaper bags at all! Each bag is embroidered and garnished using a variety of dazzle, including Swarovski crystals because we like our "bling!"
The ideal diaper bag to satisfy those who have a passion for fashion!
Dads having second thoughts about carrying a baby bag? Fathers need not worry. Angelic's "Father's day out" and the "One for the boys" changing diaper bags are especially designed just for you!
Angelic by Nikki diaper bags include removable changing mats and our signature easy access tissue/wipes holder on the inside of the lid allows moms and dads easy access to tissues and wipes with just one hand! Forget searching your bag for tissues or wipes case! Just raise the lid and pull out your tissues or wipes. The adjustable shoulder strap allows the changing diaper bags to attach easily to most strollers, or can be worn over or across the shoulder. With plenty of inner and outer pockets for bottles, thermos, sippy cup, as well as mom's and dad's personal items (PDA, phone, keys), removable easy-to-wash changing mat, and lots of extra space for everything you need when out and about with baby!
Carefully designed for mothers (and fathers!) by a mother! Finally! A diaper bag like no other!
Whether you're looking to buy a diaper bag or looking for the ideal baby shower gift, visit our site and find out why everyone's talking about our bags!
###