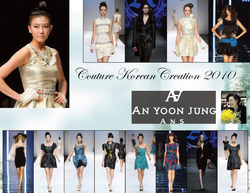 We expressed the designs that have the best paradigm through natural dye and the use of environmental fabric
New York (Vocus) February 9, 2010
Prominent Korean designer 2010 Yoon Jung An's "Green Energy Cool Earth" collection will be shown at Couture Fashion Week at the Waldorf Astoria on Sunday, February 14 at 5:00 pm.
Exhibit: Friday, Saturday and Sunday, February 12 -14 –from 2-8 pm (John Jacob Astor Salon)
Korean Collective Runway Show: Sunday, February 14th at 5:00 pm (Grand Ballroom)
Location: Waldorf Astoria, 301 Park Avenue (between 49th/50th Streets), New York City
"Green Energy Cool Earth" hints at Ms. An's dream of a better future in harmony with history and nature. Classic ensembles with a punk edge empower and transform. Natural materials such as silk, linen and cotton flow in synch perfectly represented by sea-inspired hues of natural green, indigo blue and water white. "We expressed the designs that have the best paradigm through natural dye and the use of environmental fabric," says Ms. An.
Silhouettes are contoured by H and balloon-line mini dresses and chiffon mid-length dresses accented with slouchy drapes. Other highlights consist of dresses with pin tuck details on wide hems and jackets with futuristic linear and curvaceous shapes. Romantic embellishments transpose accessories as ivory lace becomes a bracelet cuff and bead encrusted necklines take shape as a stunning necklace. Glossy, twinkling fabrics intoxicate the eye including pale gold jacquard and midnight silk.
Inspiration stemmed from 'Egyptian Exhibition' and 'Ancient Cultural Museum' ancient motifs which appear on shiny tinny fabric. Chambray silk taffeta, logo-printed silk chiffon and black-and-white checkered prints are also standouts. Designs possess a romantic space-age temper. The trend is original and contributes to fashion in an original way.
Since 1975 designer An Yoon Jung has been a leading Korean fashion designer for women. Known for romantic elegant styles, Ms. Jung uses supple textiles to create suits and flirty cocktail dresses with feminine shapes and flouncy, flared skirts. Her collections have been gems at international Fashion shows such as the Osaka World Fashion Fair, Seoul Fashion Week and Paris International Fashion Show.
Ms Jung is the current president of the Korean Women Entrepreneurs Association, and has previously held the post of President of the Korean Fashion Designer Association and the Minister of Culture and Tourism.
About MZI Global Marketing is an award-winning, full-service integrated marketing and advertising firm that creates and executes effective high-tech solutions for their clients across a wide spectrum of industries. Under the leadership of president and CEO Mira Zivkovich, recipient of the 2007 Ellis Island Medal of Honor, MZI Global Marketing puts its international, multicultural marketing expertise, a mastery of interactive marketing strategies, and custom publishing prowess to work for clients that aim to build their businesses on a global scale. MZI Global Marketing is committed to guiding its clients from initial strategy to well executed solutions, helping them surmount any challenge and achieving their every business goal. For more information, please visit http://www.mziglobal.com.
###