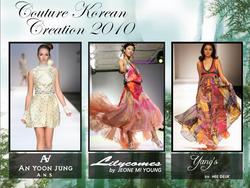 Asia has become a hotbed of New Century Couture
New York, NY (Vocus) February 9, 2010
The 7th annual New York City Couture Fashion Week , complementing Mercedes-Benz Fashion Week, will be held February 12-14, 2010 at the legendary Waldorf Astoria. The three day weekend of upscale global fashion and art will be celebrated with a closing Valentine's Day gala.
Exhibit: Friday, Saturday and Sunday, February 12 -14 –from 2-8 pm (John Jacob Astor Salon)
Korean Collective Runway Show: Sunday, February 14th at 5:00 pm (Grand Ballroom)
Location: Waldorf Astoria, 301 Park Avenue (between 49th/50th Streets), New York City
Complimentary VIP Invitation* for Trade and Press only
This year three notable Korean designers are showing their 2010-2011 collections. "Asia has become a hotbed of New Century Couture," says Mira Zivkovich, president of New York-based fashion consulting firm MZI Global. "Traditional couture is tired, uninspired and outdated. These Asian designers are creating vibrant works of art with a nod to their cultural history, but most certainly in the present. Asia is the new home of couture," says Zivkovich.
The Korea Couture Designer Collective includes:
ANS by Yoon-Jung An - Since 1975 designer Yoon Jung An has been a leading Korean fashion designer for women. Known for romantic elegant styles, Ms. An uses exquisite textiles to create suits and flirty cocktail dresses with feminine shapes and details like flouncy, flared skirts. The new collection "Green Energy Cool Earth" represents Ms. An's dream of a better future that coexists with history and nature. Natural materials such as silk, linen and cotton flow in synch perfectly painted by sea-inspired hues of natural green, indigo blue and water white. "We expressed the designs that have the best paradigm through natural dye and the use of environmental fabrics," says Ms. An. ANS has shown at international Fashion shows such as the Osaka Exhibition, Seul Fashion Week and Paris International Fashion Show. Ms. An is president of the Korean Women Entrepreneurs Association.
Lilycomes by Jeone Mi Young - In 2005 Jeone Mi Young launched her collection of natural silk, organza and cotton contemporary and evening dresses in splashes of vibrant color. Her new collection features long, airy flowing dresses in exotic patterns with criss-cross halter and square tank tops. She makes a contrasting bold statement in black and white with fluffy meringue style gowns with confectionary details. Ruffles, feathers and a spectrum of necklines create an exquisite runway rainbow. The designs are not subtle, but startle and excites like great art. Designer Mi Young is an innovator, applying the French technique of moulage. Her extensive educational background includes Esmod de Paris, Ecole Nationale Suprieure des Beaus, Ecole de la Chambre Syndicale de la Couture Parisienne, as well as an advanced program in fashion business for CEOs at Seoul National University. "Her unique combination of old-world elegance and Asian influence offers rare opportunity to find a custom crafted couture dress," says Zivkovich.
Yang's by Hee Deuk– This second brand by Hee Deuk is an expression of youth and freedom, mixing haute couture with Bohemian touches. The 2010-2011 collection features Burberry-inspired plaids in flowing skirts and trouser pants topped with sleeveless blouses accented by waterfalls of feminine ruffles. Contrasting the black, red and tan plaids, energetic, vibrant dresses and tops swirl in graphic floral patterns and gorgeous feminine shapes in sheer flowing fabrics. Featherweight styles represent escapism. Fantasy palettes lead to sunshine-filled moods. Yang's designs are like the petals of an exotic flower – it cascades to perfection. Hee Deuk Yang launched his career after winning top honors in a Korean design contest in 1990. Prior to Yang's designed multiple fashion lines, which has been featured in Hong Kong, Beijing and Seoul's fashion weeks as well as Italian fashion magazines.
"Even in this strained economy, many Asian consumers have the money to spend and are spending it on couture," says Zivkovich. "Inspired by the brightness of the future, these visionary designers created stunning pieces filled with light for spring."
Couture Fashion Week is attended by sophisticated consumers, invited VIPs, the press and high-end store buyers. General Seating at fashion shows are at 3:00, 5:00 and 7:00 pm each day. The Couture Fashion Week Valentine's Ball commences after the 7:00 pm fashion show on Sunday, February 14. The gala includes an open bar, gourmet dinner, entertainment and dancing. Attire is black tie/formal.
The weekend of events also includes the work of renowned international artists including performances by Korean pop-opera singer Kimera and Russian-born violinist Alexander Markov, sculpture by Franco Castelluccio and artwork by child prodigy Victoria Lin, among others. For more information please visit http://www.CoutureFashionWeek.com.
MZI Global Marketing is an award-winning, full-service integrated marketing and advertising firm that creates and executes effective high-tech solutions for their clients across a wide spectrum of industries. Under the leadership of president and CEO Mira Zivkovich, recipient of the 2007 Ellis Island Medal of Honor, MZI Global Marketing puts its international, multicultural marketing expertise, a mastery of interactive marketing strategies, and custom publishing prowess to work for clients that aim to build their businesses on a global scale. MZI Global Marketing is committed to guiding its clients from initial strategy to well executed solutions, helping them surmount any challenge and achieving their every business goal. For more information, please visit http://www.mziglobal.com
###