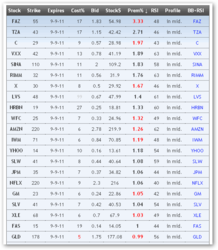 As of January 23, 2012, there are now 120 stocks, ETF's, and indexes permitted to trade Weekly options.
Orem, UT (PRWEB) January 25, 2012
Given the recent volatility in the market, investors are looking for ways to more effectively generate income with less risk. Weekly options provide another choice for income investors in this unsure market, while reducing the time required to hold short call options.
As of January 23, 2012, there are now 120 stocks, ETF's, and indexes permitted to trade Weekly options. From the data analysis done by the financial education service CoveredCalls.com, 57 of these Weekly positions were returning covered call premiums of over 1.0 percent (per week), as of the 1-20-2012 data analysis update for clients.
The pool of available Weekly vehicles continues to grow, with three (3) new positions added most recently. The Weekly options list can be found at the CBOE.com website under the "Available Weeklys" section.
The "seatbelt investing (TM)" (SBI) service at CoveredCalls.com helps investors find, research, and analyze Weekly investments. The SBI list shows the Weekly call bid, the premium percentage return, and important technical indicator values such as the RSI (Relative Strength Index) to help investors make informed decisions.
Weekly options can give investors increased granularity and more expiration periods (one expiration per week; every Friday), which can help create income-producing events more frequently when selling options. New Weekly options series are posted each Thursday, except the Thursday prior to the week of the third Friday of each month (which is the standard monthly options expiration day). During this week of the normal monthly options expiration, the last week of the monthly option is used as the Weekly option surrogate.
Premium returns from selling covered calls on Weekly options varies from about 0.5 percent per week, up to 6 percent per week, depending on market volatility. Risk can be controlled by purchasing put options as insurance on the underlying stock or ETF, and the SBI service shows these "insurance policies" on the Weekly options table at CoveredCalls.com.
To learn more about the "seatbelt investing (TM)" service and the Weekly options data, please see:
CoveredCalls.com Visual Help at: http://www.coveredcalls.com/help.asp
What is "seatbelt investing" (SBI):
http://www.coveredcalls.com/help/What_is_seatbelt_investing__SBI_.html
ABOUT:
CoveredCalls.com, founded in 1997 to help investors generate income through selling covered calls, provides data, education, and live coaching to the self-directed trader. CoveredCalls.com is one of the first option education services to provide data for the new Weekly options. Weekly options are part of the premium "seatbelt investing (TM)" service, available at CoveredCalls.com.
###