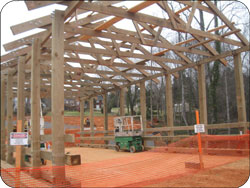 York Bridge Concepts was selected to build this covered bridge because, as stated by Mike Sears, "they offer a very unique product at a reasonable price."
Lutz, Florida. (PRWEB) January 31, 2012
York Bridge Concepts is constructing a timber covered vehicular bridge for Deacon's Station, a unique, all-student development located in Winston-Salem, North Carolina. Deacon's Station is centrally located near Wake Forest University. The 62-foot long, wood covered bridge will be the focal point of the Deacon's Station community allowing the students to be bused from Deacon's Station to Wake Forest University, less than a mile away. Project Manager of the Deacon Development, Mike Sears of Windsor Commercial stated that "It [the bridge] will be the signature feature that will make this development stand apart from any other developments in our community." Acting as a transportation "station" for the students, the bridge was influential in determining the name of the development, Deacon's Station.
York Bridge Concepts was selected to build this covered bridge because, as stated by Mike Sears, "they offer a very unique product at a reasonable price." "At York Bridge Concepts, our philosophy is to approach every project from scratch with an end in mind to provide our clients with a "one-of-a-kind" bridge like none other in the country," stated James M. York, President of York Bridge Concepts. Additionally, York Bridge Concepts has been able to successfully work within the stringent time constraints of four months from contract to completion due to the temporary creek crossing permit.
"When we approached this project we took into consideration the look, feel and architecture of the development and also the historical elements of past covered bridges and landmark railroad stations," stated Mr. York. The gable roof line between the pedestrian and vehicular areas is defined with black metal panels and architectural shingles at different elevations that give a unique look upon entering into the bridge. The sides of the covered vehicular bridge are defined by a heavy truss look of the old-fashioned covered bridges. The pedestrian railings complement the truss look and also meet AASHTO railing specifications with the black wire mesh. The entire bridge is being built on-site, including the superstructure, heavy timber rafters, roofing, columns and rails. True craftsmanship from the York Bridge Concepts' field team brings all these components together to create a landmark bridge.
But, some might say that the most attractive feature that this bridge offers is longevity. A York timber bridge, when properly maintained, lasts 50-75 years and possibly much longer. Covered timber bridges in general tend to have a longer life expectancy due to the fact that they are constantly being protected from harsh elements such as rain, hail, sleet, snow, severe heat and UV rays. Thousands of covered bridges have been built across America in the past 200 years, many of which are still in use today. While construction processes, treatment and materials have improved drastically over time, the spirit a covered bridge commands remains.
York Bridge Concepts anticipates the completion of this covered bridge in early February, 2012. Deacon's Station community will be open to students in time for the Fall Semester, 2012.
To track the progress of the construction of the bridge, please follow York Bridge Concepts on Facebook to see the latest pictures of the bridge being built.
About York Bridge Concepts
York Bridge Concepts, Inc. (YBC) is the nation's largest on-site timber vehicular bridge builder. Based in Lutz, Florida, 28 years of experience, YBC works with industry-leading owners and developers on prestigious projects throughout the U.S. and Internationally, creating more than just a solution for crossing lakes, streams, creeks, wetlands or ravines. In this competitive real estate market, developers who want to ensure that their project stands apart from the competition use a York Bridge to add value and create a feeling of exclusivity, warmth, and quality for their customers. YBC designs and builds covered bridges, vehicular bridges, pedestrian bridges, truss bridges and overpass bridges.
York Bridge Concepts' Covered Bridges
YBC's in-house design team has a passion to start from scratch on every covered bridge design with the goal to provide an original design for each of their clients. YBC uses unlimited choices in materials, colors, roofing, railings, sealers, deck coatings and designs to create covered bridges reminiscent of the past, but that fit anyone's budget. Whether the covered bridge is a fully-enclosed structure or utilizes a unique side profile, with YBC's holistic approach, a YBC covered timber bridge will provide unparalleled authenticity as people drive or walk through. Every one of YBC's covered bridges is hand-crafted at the project site, one rough sawn heavy timber at a time. YBC's in-house construction crews are seasoned in covered bridge construction with successful installations throughout the country.
For more information, please visit YBC's website at http://www.ybc.com.
###