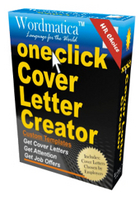 These are powerful cover letters with proven results from extensive language response testing.
St. Louis, MO (PRWEB) December 2, 2009
OneClick Letters, the creator of powerful, eloquent, and highly effective letters introduces the OneClick Cover Letter Creator with letters by the job hunting authority and bestselling author Phil Baker. Job hunters can now have powerful cover letters without writing a word. There is no cut and paste. The software program immediately creates cover letters in most any email ready to send. The letters can also be instantly created in most any Windows compatible program ready for printing.
"The key is these are powerful cover letters with proven results from extensive testing of response to language and specific vocabulary. The letters are completely customizable for the job hunter, the position, and the target employer," states Phil Baker, creator of the Resume Dictionary for resume writing.
Users can choose from a variety of cover letters by purpose including responding to a job posting, canvassing employers, prospecting, referrals, or networking. There are letters designed for entry level candidates, seasoned professionals, career changes, relocating, and more. There are thousands of possible letters and everyone can be further personalized if desired.
Letters are labeled with catchy names such as "The Pitch," "The Back Door," and "The Sure Thing." A variety of postscripts can be added to any letter. "A PS can get you added attention and cause an employer to call you," stated Baker. In addition there are resume follow up letters and interview follow up letters. "A persistent job hunt follow up program can increase your opportunities dramatically. These letters have been proven to cause employers to take action," said Baker.
The program installs in seconds and is easy to use. The OneClick program window will stay forefront on the screen. Just open the email or program where you want the letter. With the OneClick Cover Letter Creator job hunters might never need to write another cover letter again. You can see the OneClick Cover Letter Creator at http://www.oneclickcoverletters.com
###