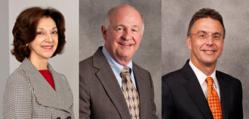 Boston, MA (PRWEB) July 11, 2012
Coverys, a leading provider of medical professional liability insurance, is pleased to announce the promotions of Donna Miele-Cesario, Theodore Kelley and Stephen Langlois. Miele-Cesario was promoted to senior vice president and CIO; Kelley to senior vice president, human resources; and Langlois to vice president, actuarial.
"These three promotions are all an important part of the integration of the three regions of the organization," said Gregg L. Hanson, president and CEO of Coverys. "Ms. Miele-Cesario, Mr. Kelley and Mr. Langlois have all achieved great success in their respective roles, making communication and service within their departments and across our regions more streamlined. This integration paves the way for increased stability and enhanced protection for our policyholders, and Ms. Miele-Cesario, Mr. Kelley and Mr. Langlois have been essential in ensuring a positive outcome for that process."
Miele-Cesario was promoted in recognition of her success in integrating the Information Technology (IT) Departments of the entire organization, and for her expanded responsibility. She began her career at Coverys in the Claims Department before taking over the implementation of company-wide IT services as manager of information systems. Prior to taking on her role as CIO, Miele-Cesario was vice president of IT and led the voice and data technology service, the overall strategy for technology development and integration and the daily operations of the IT department for ProMutual Group (now Coverys). She is currently a member of the Society for Information Management, the Association for Information and Image Management, the Association of Records Managers and Administrators and the Novarica Insurance Technology Research Council. Miele-Cesario received a Bachelor of Science degree in Management from Lesley College. In addition, she holds an Information Systems Management graduate certificate from Boston University and a Strategic Internet Management graduate certificate from Northeastern University.
Kelley's promotion is in recognition of his expanded responsibilities over the human resources functions of the entire organization. Kelley has more than 35 years of experience in human resource management and has served as vice president of Human Resources since 1996. Kelley's responsibilities include compensation, benefits, recruiting, training, payroll, switchboard, mail room and facility operations including real estate, security and construction. Kelley is a former executive of M/A-COM, Talbot's and BGS Systems, where he successfully set up the first flexible benefit program in the United States for companies under 500 employees. His department there was a recipient of the Human Resources Excellence Award from HR Solutions, Chicago. For the past 15 years, Kelley has also taught Human Resources Professional Development at Bentley College (where he served on their Advisory Council for 12 years) and was a lecturer for the National Retail Merchants Association. Kelley belongs to the American Society for Training and Development, the Society for Human Resource Management and the Physician Insurers Association of America. He received of Bachelor of Arts degree in Industrial Psychology from Pennsylvania State University.
Langlois' promotion is in recognition of his performance and expanded job function. In addition, Langlois has also taken on the actuarial services of the entire organization. Langlois joined the Underwriting Department of what was then ProMutual Group (now Coverys) in 1989. He has held a variety of positions in Underwriting and Information Technology. Most recently, he was director of actuarial services, underwriting. Langlois received his Bachelor of Arts degree in Mathematics from Boston College and also received an Associate in Underwriting designation from the Insurance Institute of America.
For more information about Coverys please contact Katharine Gould at kgould(at)coverys(dot)com or (617) 946-8665, or visit the company's website at http://www.coverys.com.
About Coverys
Coverys is one of the top 10 medical professional liability insurance providers in the country based on direct written premium. Coverys member companies insure more than 20,000 physicians, surgeons, dentists, certified nurse midwives and allied healthcare providers, as well as nearly 500 hospitals, health centers and clinics in 23 states from coast to coast. Coverys is committed to financial strength and stability with net admitted assets in excess of $3.2 billion, direct written premium of $375 million and policyholder surplus of $1.1 billion, as of December 31, 2011. In addition, all Coverys insurance member companies have a Best's Rating of A- (Excellent). Coverys emphasizes physician education and patient safety, and the company is acknowledged as a leader in providing supportive risk management services and resolute claim defense to the healthcare community. Coverys also offers a variety of interactive and relevant continuing medical education (CME) activities to healthcare providers across the country. For more information visit the Coverys website at http://www.coverys.com. Timely industry and company news can also be found on the Coverys blog at coverys.wordpress.com, on Twitter (@Coverys) and on the company's Facebook page.
###