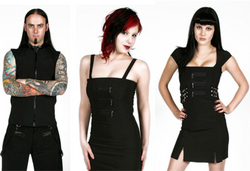 Perth, WA (PRWEB) August 18, 2008
Today, Gothic Fashion label, Covet Couture has announced the availability in wholesale and retail of the full range of its Covet Street 08 line, designed by Simone Springer.
Covet Couture's Street 08 line is functional, sophisticated Gothic Street Wear, it's sexy, yet wearable, street fashion. These are styles you'll wonder how you lived without it.
The full range of Covet Street 08 is already available over on Wellington Street in Perth, from the dazzlingly spooky fashion den Mame Clothing, Purveyors of the Dark. In addition to Covet Couture, you'll find Lip Service, Heavy Red, Tripp NYC, Shine Clothing, and Deadly Girlz, along with customized leather pieces, harnesses, PVC butcher's aprons, and blood vials. It is also available just down the road at Burlesque Baby which stocks more feminine and vintage inspired pieces at 567 Wellington Street.
With a huge interest for wholesale purchase from Covet Couture already make sure you go to covet.com.au to find a store near you, and watch for new stores stocking Covet.
Some of the initial stores stocking the Covet Street 08 range include Alternative Hair Fashion and Dread Fall Specialists stores Wildilocks. Wildilocks carry a huge line of alternative gear and can do your hair too! Located at The Base at 808 Hay Street in Perth, and Wildilocks - The Lockworks Level 1, 382 Little Collins Street in Melbourne. Also stocking the range is Victorian Gothic at 141 Brunswick St Fitzroy, Melbourne. Covet is available in Canberra carried by Raven Clothing Level 1 / 108 Bunda Street, Canberra City and if you're in New Zealand, you can find this exceptional line at the Thornapple Bootique (thornapple.co.nz).
So, what's next for Covet? A vintage inspired line, "Covet Vintage" is set to be the next installment from Covet Couture. Satins and Ruffles all with a dark edge of course! Covet Vintage will also be available wholesale and retail.
Come on in to Covet Couture's virtual boutique online at http://www.covet.com.au. You want the best? You'll get the best.
About Covet Couture:
Covet Couture offers sexy but wearable street fashion in styles you'll wonder how you lived without. Gothic Wholesale, retail and gift vouchers available online and in stores.
Covet Couture ships to: Australia, Austria, Belgium, Canada, Finland, France, Germany, Greece, Holland, Iceland, Ireland, Italy, Japan, New Zealand, Norway, Mexico, Russia, Scotland, Spain, Sweden, Switzerland, UK, USA, and Wales.
Contact:
info @ covet.com.au
###