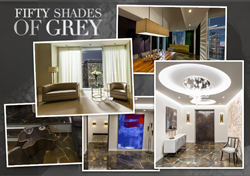 Inspiring future interior decorations, each piece was carefully selected for it's scene, in a bid to bring passion and personality for it's setting.
(PRWEB) February 04, 2015
COVET Lounge is proud to announce the partnership that took Portuguese Design to worldwide level. The most anticipated movie of the year, 50 Shades of Grey, is about to be released on Valentine's Day, and we are only a few days away from the release date!
To fully embrace the 50 Shades of Grey spirit and style, COVET Lounge's luxurious and exclusive concept was chosen to produce the furnishing and lighting of the set.
COVET Lounge and its partner-brands were selected to complete Christian Grey's extravagant lifestyle and millionaire taste. Beautiful design pieces were chosen from the following brands: Boca do Lobo, Delightfull, Brabbu and Koket.
The elegance and refinement of each piece that is going to be presented on the movie is timeless and suits to perfection the story's environment – from the most avant-garde to the most feminine detail and also the nature-inspired concept.
The bestselling novel by E. L. James, which has been turned into a global phenomenon, has been adapted to the cinema, exposing explicitly erotic scenes and featuring elements of sexual practices involving bondage/discipline, dominance/submission, and sadism/masochism.
To light up Mr. Grey's apartment, Delightfull is gracing the set with the Turner table lamp and the Ike floor lamp, within its vintage collection. Boca do Lobo was setting the mood with the Diamond Sideboard and Pixel Anodized cabinet with the incredible and contemporary design for an exquisite and timeless interior décor. For a more animalistic approach and temperamental connection with nature, Brabbu presents the Sequoia Center Table and the Vellum Wall Light. Finally, complementing gracefully the décor, we have Koket that due to its passionate and highly desirable pieces is presenting the charming Burlesque Console and the exquisite Hypnotic Chandelier.
The luxurious movie set reflects and can also tell the story of the fulgurous attraction between an unworldly innocent person with a brilliant and intimidating man.
COVET Lounge's pieces are a match made in heaven, a real love affair to illustrate Grey's modern lifestyle within the most expected Universal Pictures movie.
A Curated intense way of Design created so love can happen between unique furniture pieces and lighting.