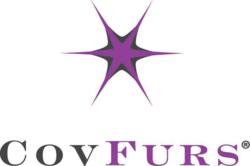 Los Angeles, CA (PRWEB) October 16, 2012
Leading faux fur accessory company, CovFurs makes its debut on QVC Sprouts with an opportunity of getting sold on QVC. However, getting a spot on QVC will be up to the voters, as there are multiple products competing in the Sprouts' competition. Voting begins on October 13th and runs through October 26th. Cast your vote now and help CovFurs win a spot on QVC!
QVC Sprouts is aimed at helping entrepreneurs start, grow, and manage their businesses. QVC Sprouts now allows young companies to display their merchandise to millions of online shoppers without assuming the risk of taking on massive amounts of inventory to meet QVCs high production requirements. Through this new program, QVC customers will have the opportunity to vote on the products they would like to see sold on QVC.com, and ultimately sold on QVC television.
This upcoming holiday season, three of CovFurs most popular selling items will be available for voting and if CovFurs wins, they will be available for purchase on QVC. Upon winning, CovFurs boot covers will be available in Black Beaver, Brown Chinchilla, and Wild Leopard.
Produced in Southern California, CovFurs' boot covers are made from the highest quality faux-fur materials. Available in a wide variety of colors and animal prints, these boot covers can be worn in multiple ways – low, around the ankle for a mod, slouchy look, mid-calf for a casual look, or knee length with a high-heeled boot for a more sophisticated, stylish look.
Whether it is an after work date, a night out on the town with the girls, or a Saturday afternoon shopping with the kids, CovFurs boot slip covers can be worn to dress up or down any outfit. These soft, plush, fine quality faux fur accessories make this year's perfect gift for any fashion lover. So, cast your vote here to see CovFurs on QVC. Voting takes place from October 13th - 26th.
About CovFurs
Launched in 2011,CovFurs are the original faux fur boot slipcover accessories and scarves made and assembled in the USA. Manufactured in Southern California, only the highest quality materials are used to replicate expensive real-looking fur that dominates international runways and the most popular fashion magazines year-after-year. For more information about all of our products and to sign up for our newsletter, please go to CovFurs.com. Be sure to visit Facebook.com or join the Covfurs conversation on Twitter.com.