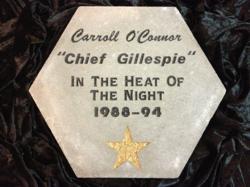 In 2011, tourism generated $100 million in direct spending and 990 jobs in Covington.
Covington, Georgia (PRWEB) November 06, 2012
The Covington Convention & Visitor's Bureau (CVB) will premiere the first pavers for the "Covington Walk of Stars" on Thursday, November 8, 2012, at 6:30pm on the Square Park in downtown Covington, Georgia.
This endeavor will place concrete pavers featuring notable actors and titles of the more than 60 movies and television series that have been filmed in Covington/Newton County around the Downtown Square. Representatives from the Georgia Film Commission will be on hand to mark the occasion as well as the Covington CVB, Chamber of Commerce Board of Directors, elected officials and other distinguished guests.
Over the years, Covington has been better known in TV Land as Hazzard County in "The Dukes of Hazzard," Sparta, Mississippi in "In the Heat of the Night," and most recently as Mystic Falls, Virginia in "The Vampire Diaries." The County Courthouse has been seen by millions in the opening credits of "In the Heat of the Night."
Starting with "A Man Called Peter" in 1954, Covington has become the true "Hollywood of the South™" by playing host to more than 60 productions that have appeared on the silver screen. Some of Covington's most famous big screen appearances include: "My Cousin Vinny," "Sweet Home Alabama," "Cannonball Run," "Remember the Titans," "Madea's Family Reunion," "Footloose (2010)," and "Flight."
According to Dr. Steve Morse's Tourism Economic Impact Report, direct tourist spending topped $100 million in 2011 and created or sustained 990 jobs in Covington/Newton County. A large portion of the community's tourism is a direct result of the long-time TV and film history.
The "Covington Walk of Stars" has been a long-time vision of the Covington/Newton County Tourism Advisory Board. The "Walk of Stars" is an additional tool implemented by the Department of Tourism to bring visitors to the area, thus increasing the foot traffic downtown. Once the project is underway, the Department of Tourism will produce a brochure listing all the pavers and their locations, proving once again that Covington really is the "Hollywood of the South™" !
For more information about visiting Newton County, go to http://newtonchamber.com/tourism