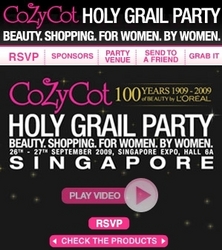 CozyCot's Holy Grail Party event is one of the few events that showcases the latest beauty happenings which indicate a positive sign moving forward in the beauty trend
Singapore (PRWEB) July 28, 2009 - A festive substitute for the upcoming male-
charged Formula 1 racing events in Singapore, CozyCot's Holy Grail Party, to be held the same weekend, is designed to be a genuine salute to the female. September 26 and 27 has been set aside as a beauty, skincare, makeup, and fashion gala, all in recognition of women.
Dubbed "where beautiful minds meet," CozyCot's Holy Grail Party is a two-day exhibition featuring the latest in skin, lifestyle, and beauty products marketed specifically towards females.
"CozyCot's Holy Grail Party event is one of the few events that showcases the latest beauty happenings which indicate a positive sign moving forward in the beauty trend," says Mr. Takumi Hasegawa, Managing Director of KOSE Singapore. "We are proud to be part of this event and it can be seen as a milestone as it marks our first collaboration on such a large-scale event that is of huge interest among women."
According to CozyCot.com Founder Nicole Yee, the upcoming CozyCot Holy Grail Party will offer a myriad of top-notch products and services.
"Never before have so many exhibitors accumulated in the same place to fete the female and the female lifestyle," she confirms. "During this Formula 1 racing weekend, all of the companies represented at the CozyCot Holy Grail Party will be marketing their products toward the female.
Named the number one women's site by Hitwise Singapore for three consecutive years from 2006 to 2008, CozyCot.com features the hottest in today's beauty and fashion markets. Guests at the CozyCot Holy Grail Party will be pampered by multiple beauty stations, product giveaways, discounts, free and valuable insight from beauty and fashion experts, and much more.
"CozyCot has over 75,000 registered members within its online community," Yee says. "Consumers trust us to provide them with quality products; and the Holy Grail Party will be no different!"
CEO of Derma-Rx (Asia Pacific) Pte Ltd and CozyCot Holy Grail Party sponsor Janifer Yeo hails the upcoming event as a valuable opportunity for women to explore products and services made exclusively for them.
"Derma-Rx is pleased to collaborate with CozyCot once again and The Holy Grail Party will likely prove to be an ideal platform for us to showcase the Derma-Rx difference up close and personal to guests during the F1 period," Yeo says.
What's in a name?
Named after the mythological Holy Grail, this party event combines women's quest for the perfect beauty and fashion products with CozyCot's remarkable online service. Commonly known as the ultimate goal or object of value, the Holy Grail is represented by CozyCot.com's ability to provide women with the answer to their every question pertaining to lifestyle products, fashion, beauty, and more.
CozyCot + Holy Grail + Party = a two-day extravaganza for women. Referred to as a party, CozyCot's Holy Grail Party falls on Formula 1 racing weekend and provides females a celebratory alternative to car races.
About CozyCot.com
CozyCot is women's best loved* online beauty, fashion, lifestyle, forums, reviews and shopping, catering to women and their insatiable needs and features over 14,000 forum threads, and more than 1.5 million posts to-date. CozyCot is dedicated to connecting women through a social shopping community that cultivates women to learn and share about latest products and services, buy smart with the best digital community advice and rave about highly sought after trends and must-haves in a woman's world. CozyCot offers an authentic forum infused with compelling content from experts, members and friends on beauty, fashion, lifestyle, health, parenting, food and entertainment.
*Hitwise Singapore Online Performance Award 2006, 2007 & 2008
For more information on the CozyCot Holy Grail Party to take place during the Formula 1 racing weekend, please visit http://HolyGrail.cozycot.com
Media contact:
Nicole Yee
CozyCot
503-5644989
###