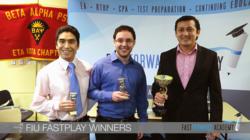 You want to see how your peers are doing, and if you need to improve and study more so that you can beat your peers next time.
Orlando, FL (PRWEB) April 19, 2013
Fast Forward Academy recently held a beta release launch event of its single-player and multi-player CPA exam prep game at Florida International University (FIU). Organizers are describing the event as a "huge success," with well over 70 students attending.
Held at the Ryder Business Building on FIU's Modesto Maidique Campus, the event was tournament style, with winners receiving various prizes. The first-place winner was Jorge Alvarez, with Nick Lee and Daniel Benmeleh taking second and third place, respectfully.
The game, called FastPlay, has been designed to assist students in their preparation for the challenging CPA exam. Using interactive features, such as leaderboards, this trivia-based game allows students to study essential information, while doing so in a fun, engaging manner.
Fast Forward Academy President, Matt McBride, is pleased by student reaction to FastPlay. "We've been receiving very positive feedback about FastPlay," states McBride. "Deciding to use gamification elements to assist student learning has really paid off. Students tell us that FastPlay is a very helpful study tool, one that is also enjoyable."
Students at the launch party were extremely positive regarding FastPlay and its ability to motivate students to prepare for the CPA exam. Student Ronnie Figueroa praised the competitive nature of the game stating that it will encourage students to study. "You want to see how your peers are doing, and if you need to improve and study more so that you can beat your peers next time. It motivates you to do better," he states.
Over the next few months, Fast Forward Academy plans on hosting further beta release parties for FastPlay at other post-secondary institutions across the United States.
Click here to see how Fast Forward Academy makes CPA test prep fun and interactive!
About Fast Forward Academy
Fast Forward Academy, LLC provides companies and individuals around the world with the tools to help them efficiently manage their professional education needs. The name Fast Forward Academy reflects the scope of our mission—helping students and professionals accomplish more in less time. To realize this goal, we make every effort to provide the most useful and efficient exam prep material in the market place, all designed to help our students Learn Fast and Pass. Our principal focus is to supply rapid training and streamlined continuing education to professionals in the fields of taxation, securities and insurance.
###