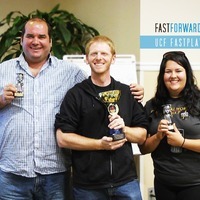 ...our game makes CPA exam review fun, while also ensuring that students are sufficiently prepared for the challenging test.
Orlando, Florida (PRWEB) April 08, 2013
The University of Central Florida recently played host to a beta release party of Fast Forward Academy's CPA exam prep multi-player game. Participating students took part in a tournament-style match with trophies and prizes for the top scorers. The game itself, however, was the big winner of the evening, receiving rave reviews from participants.
Overall, the students loved the look and feel of the trivia-based, multi-player game that uses interactive and competitive features to help prepare for the CPA exam. Students praised Fast Forward Academy for developing a new study concept for CPA review that awards achievement badges, leveling up, and leader boards for correct answers.
The top three scorers of the evening were James Hufschmid, Brittany Zembower and Leif Bang.
"I can see teachers using this in a classroom setting because the questions in the game are the same questions we have covered in our classes," states first-place winner, James Hufschmid.
Matt McBride, President of Fast Forward Academy, is pleased at the success of the beta launch event. "At Fast Forward Academy, we're always looking for ways to engage students more in the learning process. From what our beta testers at the University of Central Florida tell us, our game makes CPA exam review fun, while also ensuring that students are sufficiently prepared for the challenging test."
McBride also noted the value of receiving feedback on the CPA game from unbiased reviewers. "To be able to hear from those that the product is intended for is an invaluable opportunity," McBride states.
Participants praised the game for being easy to use and for its competitive nature, acknowledging that competing against other players motivates the user to learn more effectively.
Student Lauren Heben predicts that many students will take advantage of this free tool. "I have tried other multiple choice question formats in the past," she states, "but [Fast Forward Academy's game] has been the best layout I have ever used."
Julian Brownlee describes the CPA game as "double dare but with accounting questions." He says, "I enjoyed the format of the game because it really helped me recall the subjects I have been studying."
Fast Forward Academy will offer this free interactive study tool to any student who signs up for its CPA exam preparation course in May 2013. The internationally renowned tax education company hopes to hold more launch events at universities and colleges across the country.
Click here to see how Fast Forward Academy makes CPA test prep more fun.
About Fast Forward Academy
Fast Forward Academy, LLC provides companies and individuals around the world with the tools to help them efficiently manage their professional education needs. The name Fast Forward Academy reflects the scope of our mission—helping students and professionals accomplish more in less time. To realize this goal, we make every effort to provide the most useful and efficient exam prep material in the market place, all designed to help our students Learn Fast and Pass. Our principal focus is to supply rapid training and streamlined continuing education to professionals in the fields of taxation, securities and insurance.
###