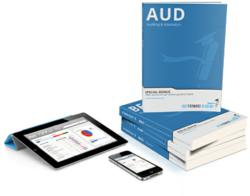 There's no reason why studying for the CPA Exam has to feel like a chore
Orlando, Florida (PRWEB) May 22, 2013
Anyone preparing for the CPA Exam knows that the process can sometimes feel isolating and overwhelming. Fast Forward Academy is making this process more engaging, interactive, entertaining and fun for students by announcing today the launch of a new game included free to anyone studying for the CPA exam.
Any student looking for CPA exam review materials can now access the gaming platform within the site for free by simply creating a username and password. Game options include single player and multi-player, making preparing for the CPA Exam a more social experience. The trivia-based game tests players' knowledge of site materials and assesses players' readiness for taking a CPA review practice exam. Players can compete against each other, level up, and collect achievement badges.
Anyone participating in the game can access a multi-player game lobby, where all available players are visible. Individuals can create customized profiles and upload an image of themselves, all adding to the social element of the experience. Player profiles also track how many games a person has played, how many he/she has won/lost, how many questions the player has answered correctly/incorrectly, and other useful stats. Players can also see how they measure up against community averages.
The game itself is trivia-based using real past CPA examination questions, but by having the ability to compete against (and chat with, via a chat messaging system) other people, Fast Forward Academy is making CPA review a little more fun.
Fast Forward Academy President, Matt McBride, hopes that the new game option will allow more students to engage with each other while preparing for the CPA Exam. "There's no reason why studying for the CPA Exam has to feel like a chore," states McBride. "By offering a social gaming platform, Fast Forward Academy is yet again appealing to a variety of learning styles and also connecting people who are studying the same content. It's reassuring to be part of a team when studying for the CPA exam."
A leaderboard shows the top players in the game and students can review gaming sessions and see explanations to questions from within the study bank dashboard if they have access through a Fast Forward Academy product purchase.
Click here to learn more about how studying for the CPA Exam can be entertaining.
About Fast Forward Academy
Fast Forward Academy, LLC provides companies and individuals around the world with the tools to help them efficiently manage their professional education needs. The name Fast Forward Academy reflects the scope of our mission—helping students and professionals accomplish more in less time. To realize this goal, we make every effort to provide the most useful and efficient exam prep material in the market place, all designed to help our students Learn Fast and Pass. Our principal focus is to supply rapid training and streamlined continuing education to professionals in the fields of taxation, securities and insurance.
###