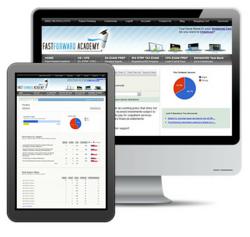 We offer both printed books and advanced technology to increase students' chances of passing the CPA exam
Orlando, FL (PRWEB) August 21, 2012
Aspiring certified public accountants know that in order to become a CPA, they first must pass the Uniform Certified Public Accountant Exam (CPA Exam). This exam is not an easy one to pass—consisting of 14 hours in total, the exam must be completed within an 18-month time frame. Fast Forward Academy is now making it easier than ever to review for the CPA exam with its new webpage dedicated entirely to preparing for the CPA exam.
The American Institute of Certified Public Accountants (AICPA) estimates that up to 75% of CPAs currently in the workforce will be retiring before 2027, and the U.S. Bureau of Labour Statistics claims a 22% growth rate in jobs for CPAs over the next eight years.
Essentially, it's a prime time to become trained as a CPA and secure a job. Fast Forward Academy wants to help aspiring accounting professionals achieve this goal by providing tools and products that make CPA exam review a more straight-forward process.
Fast Forward Academy President, Matt McBride, is pleased to now have all CPA exam review tools outlined on the one page. "Aspiring accounting professionals are seeking ways to help them study for the CPA exam, and Fast Forward Academy offers all kinds of tools for this purpose." He adds, "We offer both printed books and advanced technology to increase students' chances of passing the CPA exam on the first try. We're proud that our quality products contribute to an 83% pass rate of the CPA exam."
Students who purchase Fast Forward Academy's CPA prep products will notice that the software has been designed to imitate the experience of taking the actual CPA exam, thereby making taking the actual exam a more familiar and less stressful process. Fast Forward Academy offers many products available for CPA review including Comprehensive CPA Study Guides, a Study Bank, Practice Exams, Andriod and IPad Apps, Analytics Dashboard, Real-Time Reporting, Question Explanations, and even Social Integration. By offering all these tools, students will not only have access to an easy-to-use, high quality, CPA exam review software, but they will also have a fun and enjoyable experience.
To learn more about specific products available that will help you study for the CPA exam, click here.
About Fast Forward Academy
Fast Forward Academy, LLC provides companies and individuals around the world with the tools to help them efficiently manage their professional education needs. The name Fast Forward Academy reflects the scope of our mission—helping students and professionals accomplish more in less time. To realize this goal, we make every effort to provide the most useful and efficient exam prep material in the market place, all designed to help our students Learn Fast and Pass. Our principal focus is to supply rapid training and streamlined continuing education to professionals in the fields of taxation, securities and insurance.