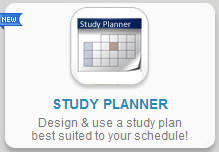 Now, even more students can use the free study planner to enhance their overall study experience with Fast Forward Academy.
Orlando, Florida (PRWEB) February 08, 2013
Last month, Fast Forward Academy released a new study planner tool for tax preparers and enrolled agents taking tax courses in preparation of the RTRP or EA IRS exams. The free tool has been so successful that this high quality provider of tax education products has expanded it to include new plans for the tool—specifically for those preparing for the CPA exam.
Now, accounting professionals can expect to see plans added to the following courses: Auditing and Attestation (AUD), Business Environment and Concepts (BEC), Financial Account and Reporting (FAR) and Regulation (REG). Passing the CPA exam requires attacking one section at a time, so the calendar will allow accounting professionals to plan for one test now and create additional plans later depending on the order and target exam dates the student chooses.
The study planner itself has interactive features that students studying for sections of the CPA exam can manipulate to customize their specific study schedule. Accounting students can use the calendar as part of their CPA exam review to set up start and end dates, taking into consideration non-studying days (e.g., holidays or specific days of the week). Additionally, students can customize the calendar to send email and text message reminders based on pre-determined study plans and self-assigned tasks. Multiple calendars can be created, if necessary.
Matt McBride, President of Fast Forward Academy, is pleased that more accounting students will be able to take advantage of the new study planner tool. "We've already received quite a bit of positive feedback from tax preparers and enrolled agents using the tool," states McBride. He continues, "Now, even more students can use the free study planner to enhance their overall study experience with Fast Forward Academy. By adding plans for AUD, BEC, FAR, and REG, as part of the CPA test prep package, we're reaching out to even more people working or planning to work in the accounting industry to help ensure success."
Anyone preparing for the CPA exam can choose from a variety of options including study guides, question drilling tools, practice exams and more covering AUD, BEC, FAR, and REG. Students can also opt to take a comprehensive bundle that includes all of these options in one value bundle.
Click here to see how Fast Forward Academy can help you prepare for the CPA exam.
About Fast Forward Academy
Fast Forward Academy, LLC provides companies and individuals around the world with the tools to help them efficiently manage their professional education needs. The name Fast Forward Academy reflects the scope of our mission—helping students and professionals accomplish more in less time. To realize this goal, we make every effort to provide the most useful and efficient exam prep material in the market place, all designed to help our students Learn Fast and Pass. Our principal focus is to supply rapid training and streamlined continuing education to professionals in the fields of taxation, securities and insurance.