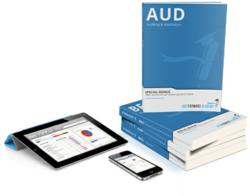 it's a whole other experience using a textbook that can track your progress and adjust to your specific needs
Orlando, Florida (PRWEB) May 08, 2013
Fast Forward Academy has earned an international reputation for being innovative and creative when it comes to online tax and accounting education. Recently, the company added to its repertoire of engaging tax and accounting products with the launch of its first "intelligent textbook"—one-of-a-kind in the industry.
FastBook, an advanced yet simple textbook for CPA review, gives students an online version of the book to read in an engaging manner. However, this is not an average online textbook. Using FastFocus technology, students can open the book to all subjects or shrink the book to the areas that have the highest probability of impacting their score on the exam. FastFocus uses study performance data to highlight key areas specific to the student, breaking from the one-size-fits-all model into a knowledge-based one-size-fits-one model.
The "Custom" FastFocus option also allows readers to choose a threshold of right/wrong answers for sections and pull only that content. This allows the book to intuitively "know" where a student's weak areas are. The standard view is set at 80%, so everything that the user scores less than 80% on will be automatically queued into the FastFocus view. This gives students more control over their unique experience with the FastBook's amazing technology.
Other reading features of this effective CPA exam prep tool include the following: highlighting sections, storing notes, marking sections, searching content and viewing community and personal exam/quiz results for a particular section of the textbook. The learning materials can also be enhanced with supplemental media to further prepare students for the tough CPA exam.
In addition to the reading features, FastBook has built-in, intelligent features that combine reading, studying, and interacting. Instead of a student simply reading the material and processing via traditional note-taking techniques, this intelligent text tracks the user's progression through the content. It also provides the instructor with a review of usage and performance, and in the future will allow users to join groups based on content and/or performance metrics.
Fast Forward Academy President, Matt McBride, believes this intelligent textbook will change students' experience with CPA test prep. "It's one thing to read material, take notes, and review for an exam (a.k.a., the traditional study method)" states McBride, "but it's a whole other experience using a textbook that can track your progress and adjust to your specific needs." He continues, "FastBook makes studying for the CPA exam an experience rather than a chore, involving students by creating a community of learning."
McBride plans to launch intelligent textbooks in other subject areas at Fast Forward Academy in the near future.
Click here to see how FastBook can help you prepare for the CPA exam.
About Fast Forward Academy
Fast Forward Academy, LLC provides companies and individuals around the world with the tools to help them efficiently manage their professional education needs. The name Fast Forward Academy reflects the scope of our mission—helping students and professionals accomplish more in less time. To realize this goal, we make every effort to provide the most useful and efficient exam prep material in the market place, all designed to help our students Learn Fast and Pass. Our principal focus is to supply rapid training and streamlined continuing education to professionals in the fields of taxation, securities and insurance.
###