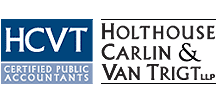 The Camarillo office provides HCVT increased accessibility to serve its growing client base with added convenience and better client service.
Camarillo, CA (PRWEB) July 12, 2011
The Partners of Holthouse Carlin & Van Trigt LLP (HCVT) are pleased to announce the opening of their seventh Southland office in Camarillo, California. Two of the firm's partners, William L. Warburton and John R. Lilly, and several principals and managers, will be based in the new office and will lead the expansion of services to new and existing clients.
According to Bill Warburton, "The Camarillo office provides HCVT increased accessibility to serve its growing client base. As the largest and fastest growing CPA firm headquartered in Southern California, we have found that our employees and clients value the multiple location platform of our firm, which provides convenience and better client service."
Bill has 30 years of public accounting experience. He has lived in Camarillo for 22 years. He spent the first nine years of his career at KPMG LLP, then spent six years in private industry as a chief financial officer and chief accounting officer and re-entered public accounting at HCVT in 1997. Bill has extensive experience in serving private, public and non-profit clients. Bill is the partner-in-charge of the firm's benefit plan audit practice and the firm's 200 benefit plan audit clients will be served from the Camarillo CPA office.
John Lilly has 20 years of tax experience specializing in providing tax planning and consulting services primarily to large corporate taxpayers, high-net-worth individuals and owner-managed business in a variety of industries and situations. Prior to joining HCVT in 1995, John was with Deloitte and spent time in industry at Big Dog Sportswear. He is an adjunct professor with CSUN's Masters in Taxation Program teaching Real Estate Taxation. John has lived in Ventura for over 43 years.
The office is located at 400 West Ventura Boulevard, Suite 250, Camarillo, CA, 93010.
Phone: 805-374-8555 Fax: 805-413-1749
ABOUT HCVT
HCVT is a full-service CPA firm formed in 1991 and, in its 20 years, has grown to 27 partners and a total professional and administrative staff of over 250. The firm provides accounting, attest, tax, transaction advisory, business management and financial consulting services to privately held companies, large owner-managed businesses, high-net-worth individuals, estates, trusts and qualified retirement plans. HCVT has seven offices in Southern California for the convenience of their clients and employees. Other office locations include: West Los Angeles, Westlake Village, Long Beach, Pasadena, Costa Mesa and Encino.
HCVT was named to the 2010 "Top 25 Best Managed CPA Firms" in the U.S. by INSIDE Public Accounting (IPA), a national trade publication for the fifth straight year. With net revenues in excess of $65 million for calendar 2010, and their ability to attract larger local, national and international clients with expanding accounting and tax needs, HCVT is well positioned for continued successful growth. The firm and individual partners have also received numerous annual awards.
HCVT is also an independent firm associated with Moore Stephens International Limited, a top independent accountancy and business advisory association with affiliated CPA and financial services firms throughout the United States and the World. With more than 360 independent accounting and consulting firms throughout the United States and the World, Moore Stephens' global reach of associated firms provides HCVT clients access to a wide range of specialists, yet local enough to deliver a high level of personal service.
For more information regarding HCVT log onto our recently updated web site at: http://www.hcvt.com
###