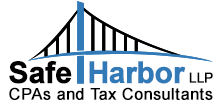 Napa, CA (PRWEB) February 06, 2013
G&J Seiberlich, a leading Napa CPA firm, and Safe Harbor CPA LLP, a leading San Francisco CPA firm, are proud to announce their latest enhanced service for Bay Area businesses: accounting review of internal controls against fraud. In light of recent reports, many Bay Area businesses are concerned about the opportunities for fraud in accounting, operations, sales, upper management, customer service and purchasing departments.
"All businesses - small, medium, or large - need to guard against financial fraud," explained Chun Wong, CPA, managing partner at Safe Harbor. "According to a 2012 report from the Association of Certified Fraud Examiners, fraud is an increasing problem for all businesses, and we see many clients who would like an accounting review of their internal control systems to prevent fraud from occuring."
For more information, go to -

More on Financial Fraud and Internal Control Systems
Since 2005, licensed CPA's in California have had specific education requirements directly related to fraud in financial statement reporting. There are several reasons for this; the most obvious being that fraud does exists. Unfortunately, in any business or organization, there is a chance that fraud is occurring in your workplace.
The statistics are startling. The Association of Certified Fraud Examiners released the 2012 Report to the Nations on Occupational Fraud and Abuse. This study points out many eye-opening findings related to fraud in the workplace. To that end, organizations should consider:
Implementing a "whistleblower" policy which allows there to be a platform for tips to come in.
Implementing or strengthening internal controls within the business in order to prevent and detect fraud.
Organizations should consult with their Certified Public Accountant to assist them with developing effective internal controls.
IRS Circular 230 Notice
The Internal Revenue Service requires Safe Harbor LLP to inform the reader that any tax advice contained in this correspondence cannot be used for the purpose of avoiding penalties under the Internal Revenue Code or for promoting, marketing or recommending to another party any transaction or matter addressed.
About Safe Harbor CPAs – a Professional CPA Firm in San Francisco
Safe Harbor LLP is a CPA firm that specializes in accounting and tax services for individuals and businesses throughout the San Francisco Bay Area and greater California. Safe Harbor CPAs helps both individuals and businesses with tax preparation, IRS audit defense, and audited financial statements. The firm prides itself on friendly yet professional service and utilizes state-of-the-art Internet technology to provide quality customer service.
Safe Harbor CPA
http://www.safeharborcpa.com
Tel. 415.742.4249
About G & J Seiberlich & Co LLP CPAs - a Professional CPA Firm in Napa, CA
G & J Seiberlich & Co LLP is the oldest full-service CPA firm in the North Bay and the first to specialize in many of the industries that make the region unique. Gordon Seiberlich came to the Napa Valley in 1949, determined to put his national accounting experience to work by establishing a full-service firm in a place that was scarcely more than a spot on a map.
G & J Seiberlich & Co LLP
http://www.gjscollp.com/
Tel. 707-224-7948