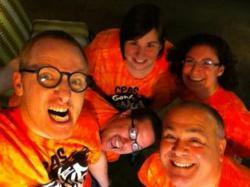 We aren't your parents CPA firm!
Chicago, IL (PRWEB) March 26, 2012
On March 8th Jody Padar, CEO and Principal of New Vision CPA Group and Jason Blumer, Founder of THRIVaL+ CPA Network and Blumer and Associates CPAs descended on South by Southwest to show this innovative group that CPAs aren't so stereotypical and are using technology in better ways to enhance their work.
Padar and Blumer lead a growing movement of CPAs (and firms) who represent a new school of accountants. This movement focuses on the mindset that technology should be embraced to facilitate more productive and valuable ways to service their clients. And it doesn't stop there; some of the businesses operate virtually, have tossed billing by the hour and don't wear a suit everyday. Each practice has its own nuances, but they all generally have one thing in common-- "We aren't your parents cpa firm," says Blumer.
Look Who is Talking
In their live podcast from SXSW, they asked real people "What pisses you off about your CPA?" to capture whats not working with the more traditional models. "CPA firms aren't focused on delivering value to the client," says Padar.
It's not just these two rebels talking. SXSW stirred up a host of blogs, tweets and videos that can be found at http://www.delicious.com/stacks/view/OnqmLM .
Relevant Articles
Padar and Blumer aren't new to the model. There have been a host of other entrepreneurs to challenge ways of doing business that are outside the norm. These are just some examples of young entreprenuers changing the world.

Fast Company- Generation Flux
Inc Magazine 30 under 30
About Blumer & Associates
Based in Greenville, SC and serving clients nationally, Blumer & Associations-"It's not your father's firm" takes on a whole new meaning. They exist to help creative customers enjoy their work and lives more deeply by managing the technical side of their business with effective technologies and providing them with business intelligence through challenging coaching and deeper education! With an understanding of the big demographic shift taking place (from Baby Boomers to Millennials), Jason Blumer set his mind to re-inventing his firm's traditional service model to one that "speaks" to the up and coming entrepreneurial niche.
About New Vision CPA Group
Based in Arlington Heights, IL, New Vision CPA group is unlike other general practice accounting firms. They provide small and midsize companies with comprehensive business solutions that guides them toward success over the long term. Their investment in technology and resources allows them to spend more time providing value added guidance and less time completing the technical nuances of the work. They also run a cooperative for CPAs who want access to the back office support and technology of a leading firm, but still want to run their own practice.