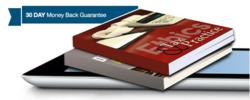 By having a dedicated section of our site specifically for CPE options for enrolled agents and registered tax preparers, we hope to appeal to more tax professionals seeking a required CPE Course
Orlando, FL (PRWEB) November 18, 2012
Fast Forward Academy announces a new website, launched to further assist enrolled agents and registered tax preparers.
Already a leader in IRS tax continuing education, Fast Forward Academy is continually looking for ways to engage and assist more tax professionals.
The new website showcases the various continuing education opportunities Fast Forward Academy offers. Every course is registered with the IRS, and Fast Forward Academy allows tax professionals to purchase CPE courses individually, as a small bundle, or as a larger bundle. A video-based option is also available. The options are all presented in an easy-to-view, user-friendly side menu.
For any registered tax preparer or enrolled agent who needs to complete required IRS CPE classes, the new website outlines what those requirements are and the options available for completing them. A helpful FAQ section outlines, specifically, what hours tax professionals need to complete per category.
One option the new website is highlighting is Fast Forward Academy's recently launched story-based CPE. Described as continuing professional education "that is actually entertaining and fun," tax professionals who opt for the story-based courses can expect quality content with real-world scenarios and humor. All of Fast Forward Academy's courses use Flash, video and other engaging technologies to make the content more appealing to tax professionals.
Fast Forward Academy's president, Matt McBride, says that their new website dedicated to CPE will make it easier for tax professionals to complete necessary requirements. "By having a dedicated section of our site specifically for CPE options for enrolled agents and registered tax preparers, we hope to appeal to more tax professionals seeking a required CPE Course" He continues, "At Fast Forward Academy, we recognize that those working in the tax industry are busy professionals and so we strive to do anything we can to make information more accessible."
Every course available through the new CPE website includes free PDFs as an additional tool for tax professionals. Click here to check out all of Fast Forward Academy's CPE Course options.
About Fast Forward Academy
Fast Forward Academy, LLC provides companies and individuals around the world with the tools to help them efficiently manage their professional education needs. The name Fast Forward Academy reflects the scope of our mission—helping students and professionals accomplish more in less time. To realize this goal, we make every effort to provide the most useful and efficient exam prep material in the market place, all designed to help our students Learn Fast and Pass. Our principal focus is to supply rapid training and streamlined continuing education to professionals in the fields of taxation, securities and insurance.