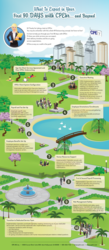 We hope this infographic will catch the attention of a business owner and help them to understand what exactly it is we do
Los Angeles, CA (PRWEB) May 01, 2013
CPEhr, a Los Angeles based Professional Employer Organization (PEO), announced the release of a new infographic this week. The infographic, titled, "What to Expect in Your First 90 Days with CPEhr… and Beyond," creatively depicts the initial steps clients take with CPEhr as a fun, colorful and light-hearted 'walk in the park'.
The original infographic outlines the 10 steps clients take as they begin utilizing CPEhr's human resources services. It portrays an HR professional leading a business owner and its employees on a fun stroll through a beautiful park.
"The value a PEO can bring to a business is sometimes hard to grasp at first," says Ari Rosenstein, CPEhr's Director of Marketing and creative director behind the infographic. "Many of the intangible services offered may not be clear in the beginning, and employers can be left wondering what precisely they will receive once they start working with us. The purpose of this infographic is to depict the exact service expectations in a light, fun format."
Rosenstein worked closely with the CPEhr Implementation Team to verify each step of the process. The 10 steps depicted in the infographic are:
1. Sign the Client Services Agreement and Clear Underwriting
2. Executive Meeting
3. CPEhr Client System Configuration
4. Employee Orientations/Enrollments
5. Payroll and Tax Set-Up
6. Employee Benefits Set-Up
7. Human Resources Support
8. First & Second Payroll Processing
9. Risk Management/Safety
10. Transition to Dedicated Service Team
As a professional employer organization, CPEhr assists employers through the entire life-cycle of an employee, from new hire to separation of employment. Services also include medical benefits and Health Care Reform compliance, workers' compensation insurance, payroll and tax administration, and management training.
"We hope this infographic will catch the attention of a business owner and help them to understand what exactly it is we do," explains Rosenstein. "And for employers who are already considering CPEhr, this should help put them at ease, knowing what to expect."
A copy of the infographic is available at the CPEhr website here.
About CPEhr
Celebrating its 30th anniversary, CPEhr provides human resources solutions to over 75,000 employees through a high-touch service model. Services include employment compliance, HR administration, payroll, training, medical benefits and workers' compensation insurance. With corporate headquarters in Los Angeles, CPEhr is one of the largest, privately held Human Resources Outsourcing and PEO firms in the state.