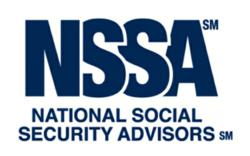 The demand for Social Security advice continues to increase, and NSSA certified advisors will be able to act as a valuable retirement resource for their clients.
San Jose, CA (PRWEB) June 12, 2013
The Baby Boomer generation is a market of 70 million people with about 10,000 turning 65 every day. The number of individuals eligible for social security rises daily. And unfortunately, 90% of recipients are not maximizing their benefits due to a lack of information and guidance. Social Security benefits can be a vague mystery to both advisors and clients, as it is hard for both parties to find information.
To educate advisors in guiding their clients, Marc Kiner and Jim Blair of Premier Social Security Consulting now offer a Social Security training and certification program. A successful combination of Blair's 35 years of experience in the Social Security administration and Kiner's 30 years as a CPA make them the ideal choice for NSSA instructors. Together Kiner and Blair prepare CPAs, Enrolled Agents, Lawyers, Financial Advisors, Insurance Agents, Tax Professionals, and other professional advisors to add Social Security expertise to their list of qualifications.
The demand for Social Security advice continues to increase, and NSSA certified advisors will be able to act as a valuable retirement resource for their clients. In addition to offering this new service to clients, advisors will also be able to obtain a higher level of credibility as Social Security advisors in order to stand out from competing advisors in their field.
The National Social Security Advisor certification training is a completely new program, and many professional advisors have been greatly benefiting from its expert information and instruction. Kiner and Blair travel across the country to offer NSSA training seminars, but an increase in demand will now bring their classes online and available to a national audience. Kiner and Blair have partnered with online continuing education provider CPE Link to bring training for the NSSA Certification Program to CPE Link's online webcast platform.
In this online training program, Kiner and Blair will cover topics including how benefits are calculated, how benefits are affected by the client's age, Social Security options available to different marital demographics, and other relevant issues.
Upon completing the webcast training, attendees must pass an online certification test in order to become a National Social Security Advisor and receive their NSSA certificate from the National Social Security Association. The training program includes material filled with invaluable information, a full year of support from instructors, video recordings of the presentations, and exam and certification fees. The online training will make its first appearance on July 10 and August 12, 2013 at http://www.cpelink.com.
CPE Link is a provider of online continuing professional education (CPE) for CPAs, EAs, CFPs and other financial professionals. Practitioners can choose from a broad curriculum of over 300 live webcast topics every year. CPE Link is registered with the National Association of State Boards of Accountancy (NASBA), as a sponsor of continuing professional education on the National Registry of CPE Sponsors.