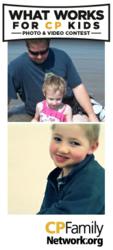 Austin, TX (PRWEB) November 27, 2012
A six-year-old girl from North Carolina and a five-year-old boy from Michigan are winners of the Cerebral Palsy Family Network's photo and video contests. For getting the most votes from CPFN families, the children received iPads and apps to assist with their therapies.
"This contest was a huge success and we were touched by the inspirational stories we received," said CP Family Network Editor Lee Vander Loop. "We hope other families raising children with disabilities will benefit from the ideas and suggestions that were shared in the contest."
Halyn's photo shows her sitting with her dad in shallows at the beach. The accompanying blog by her mother describes ways the family has worked to strengthen Halyn's walking muscles, including "horse rides" across the living room floor and using a broom handle to keep Halyn's arms at torso level while she walks.
Vinny's video shows him learning to walk in a walker, accompanied by a chorus of encouragement from therapists.
In the "What Works for CP Kids" photo and video contests, Cerebral Palsy Family Network asked families to submit a photo or video sharing tips and tricks they use to better the life of their CP child. More than 400 entries were received and thousands of votes were cast by members of the Network's Facebook page. The winners received a new iPad, OtterBox® case, and hundreds of dollars worth of assistive technology and educational apps.
The Cerebral Palsy Family Network will follow up with Halyn and Vinny in the coming months for updates on how they are using their prizes and progressing in their development.
The Cerebral Palsy Family Network has the largest Facebook presence on the Web of all organizations that deal with cerebral palsy, Vander Loop added. "We've built such a strong community where parents can share resources, information, and support. We look forward to hosting more contests next year to thank our community members for their contributions," she said.
Among the resources it offers parents are the Cerebral Palsy Online Resource Directory, a free searchable database of resources available to CP families in each state and Washington, D.C., and the Care Guide: Medical and Emergency Records, which helps parents organize, update and share information about their child using their computer.
The Cerebral Palsy Family Network is a 501-C3 non-profit organization whose mission is to provide medical and legal resources to families and children with cerebral palsy.