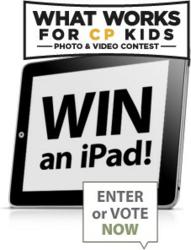 Austin, TX (PRWEB) October 19, 2012
For sharing a trick – such as a creative use of technology or other idea – parents and caregivers of children with cerebral palsy could win an iPad, the Cerebral Palsy Family Network has announced.
"Our parents and our children's caregivers are some of the most creative on the planet when it comes to empowering their kids. To encourage sharing of these great ideas, we're offering an incentive – the chance to win an Apple iPad and more than 20 assistive technology and education apps," said Lee Vander Loop, CPFN editor.
"Making the world a better place for a child with cerebral palsy can take all sorts of forms. Be creative! Your story may just spark an idea for other families," she added.
To enter the "What Works for CP Kids" contest, parents and caregivers should submit a photo or video to the Cerebral Palsy Family Network Facebook page showing how they used technology or other creative ideas to better the life of a child with cerebral palsy. The photo needs to be accompanied by a 400-500 blog telling the photo's story, and the videos should be about two to two-and-a-half minutes in length, Vander Loop explained.
The two entries that receive the most votes on Facebook will receive iPads and accessories, including an OtterBox® protective case and SpeechTree™ software. The contest is open until Nov. 16, and the winners will be announced around Thanksgiving, she added.
The Cerebral Palsy Family Network has the largest Facebook presence on the Web of all organizations that deal with cerebral palsy, Vander Loop noted. "We've grown because we give parents in the cerebral palsy community what they need – information and resources to better their lives and the lives of their children," she said.
Among the resources it offers are Cerebral Family Resource Directory, a free searchable database of resources available to CP families in each state and Washington, D.C., and the Care Guide: Medical and Emergency Records, which helps parents organize, update and share information about their child.
The Cerebral Palsy Family Network is a 501-C3 non-profit organization whose mission is to provide medical and legal resources to families and children with cerebral palsy.