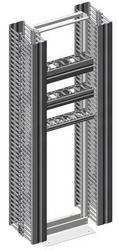 Westlake Village, CA (Vocus) May 25, 2010
Chatsworth Products, Inc. (CPI), a global manufacturer providing voice, data and security products and service solutions that optimize, store and secure technology equipment now offers Velocity™ Cable Management, a quick and easy to use economical solution for Rack Systems.
CPI's new Velocity Cable Managers are easy to install, easy to transport, with more capacity and simplified cable management. Available in 6 foot (1.8 m), 7 foot (2.1 m) and 8 foot high (2.4 m) single- and double-sided vertical managers and single-sided horizontal configurations, Velocity creates a complete pathway for premise cabling and patch cords, supplying comprehensive cable management solutions for open two- and four-post Rack Systems.
Designed with a quick and easy tool-less snap together assembly, Velocity takes approximately 3-5 minutes to unpack, assemble and install, making cable management a snap. By shipping in compact packaging that is 25% to 57% smaller than comparable managers; excess packaging waste is reduced, freight costs are decreased and storage space during staging and clean-up is minimized.
To supply more interior space for cabling, Velocity single-sided managers are constructed with a deeper design, providing up to 1/3 more cable capacity than similar solutions. Each Velocity Cable Manager includes T-shaped cable guides with rounded edges. These guides help organize cables by rack-mount unit, while the rounded edges protect cables from snags. In addition, openings on the sides of the managers simplify cable management by aligning with each rack-mount unit. On the back of the managers, openings provide easy front-to-rear cabling, while attractive snap-on covers supply a secure and protected environment for cables.
Use Velocity Cable Managers with CPI Rack Systems, Cable Runway and Tray, Grounding and Bonding Products and Wall-Mount System to achieve a complete Structured Cabling Support Solution for both large and small applications.
To learn more about CPI's Velocity Cable Management, visit http://www.chatsworth.com/velocity; click on the product video to see how fast and easy this cable manager is to install and use.
About Chatsworth Products, Inc.
Chatsworth Products, Inc. (CPI) is a global manufacturer providing voice, data and security products and service solutions that optimize, store and secure technology equipment. CPI Products offer innovation, configurability, quality and value with a breadth of integrated system components, covering virtually all physical layer needs. Unequalled customer service and technical support, as well as a global network of industry-leading distributors, assures customers that CPI is dedicated to delivering products and services designed to meet their needs. Headquartered in the US, CPI operates global offices within the US, Mexico, Canada, China and the United Kingdom. CPI's manufacturing facilities are located in the US, Asia and Europe.
CPI is listed with the General Services Administration (GSA) under Federal Supply Schedule IT 70. Products are also available through GSA Advantage and through Government Wide Acquisition Contracts (GWACs), including GSA Connections and NITAAC-ECS III. (http://www.chatsworth.com/gov)
Media Contact
Nicole L. McLawhorn
Public Relations/Advertising Specialist
Email: nmclawhorn(at)chatsworth(dot)com
Phone: 252-635-4264
More Information
Visit: http://www.chatsworth.com
Email: info(at)chatsworth(dot)com
Toll-Free: 800-834-4969
All products quoted are subject to availability based on manufacturing capacity and shipping dates should be considered estimates only. While every effort has been made to ensure the accuracy of all information, CPI does not accept liability for any errors or omissions and reserves the right to change information and descriptions of listed services and products.
©2010 Chatsworth Products, Inc. All rights reserved. CPI, CPI Passive Cooling, MegaFrame, Saf-T-Grip, Seismic Frame, SlimFrame and TeraFrame are federally registered trademarks of Chatsworth Products, Inc. Cube-iT Plus, Evolution, OnTrac, QuadraRack and Simply Efficient are trademarks of Chatsworth Products, Inc. All other trademarks belong to their respective companies.
###