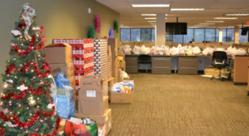 I am glad that we are once again able to help Metrocrest and the great work they do in our community.
Carrollton, TX (PRWEB) December 21, 2012
This month, the employees at Certified Payment Processing (CPP) concluded their annual Holiday Food Drive designed to help families in the area have a better holiday. Once again, the company teamed with local charity Metrocrest Social Services and more than 900 pounds of food were donated, along with $1,047 in cash donations.
Throughout the month of December, CPP employees were provided information about the important work of Metrocrest in the community, the number of families the charity helps every year, as well as messages about the rising problem of hunger in America and specific statistics about hunger in Texas.
"As always, our team rallied for this food drive and did an amazing job," say Tony Norrie, Vice President and General Manager. "Throughout the building there was a clear sense of how important this was to people in need at this time of year. There were even friendly competitions within the departments, which increased the excitement and energy. I appreciate their efforts, and am glad that we are once again able to help Metrocrest and the great work they do in our community."
Metrocrest serves an average of 130 families a week, distributing more than 25 pounds of food per person. Last year, Metrocrest distributed more than 1,600 boxes of food to families in need during the holidays.
Following the three-week Food Drive, member of the Operations Leadership Team also spent half a day volunteering at the Metrocrest Holiday Store.
Certified Payment Processing is a leading provider of credit card processing services and also leases point-of-sale terminals that quickly process all forms of payments: debit and credit card transactions, gift cards and checks. The products and services are designed to help businesses increase revenue, control costs, improve efficiency, enhance data security and provide their customers with the most popular payment methods.
"It's tragic to think that families don't have enough food, especially during the holiday season," says Norrie. "We're glad we could do something to make things a little better.
From the Metrocrest Social Services website: Metrocrest Social Services stands ready to help families through their emergencies and to plan for a more secure future. Through our assistance with rent, utility payments, food, clothing, medical prescriptions, and more, we truly prevent families from being homeless. Our Employment Program provides individuals with support for a successful work search in the form of resume assistance and individual job leads, gasoline vouchers and bus passes. In addition we have programs to assist families in successfully managing financially stressful seasons.
About Certified Payment Processing
Certified Payment Processing (CPP) is a full-service provider of electronic payment equipment for processing purchases made by debit and credit cards, as well as checks and online purchases, in addition to a range of other specialized merchant services. With two sales entities -- TransTech Merchant Group and Summit Merchant Solutions -- CPP has more than 40,000 active merchants and transactions in excess of $3 billion. The company has a support staff of 330 people to provide assistance to hundreds of field sales representatives across the country, and is headquartered just outside of Dallas, Texas. Those interested in working as a local sales representative are encouraged to visit the company's career site, where they can submit their resume