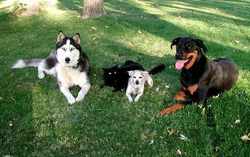 San Francisco, CA (Vocus) March 18, 2010
Recently Safety Training Seminars hosted a event focused on Pet CPR. The event went well and had a warm reception. Safety Training Seminars wants everyone to have access to the tools and knowledge they need to give a pet CPR in 4 steps.
Finding a family dog or pet unconscious at home, or a pet cat hit by a car that is not breathing and without a heartbeat, can be a traumatic and very scary experience. Thankfully there are steps to save the animal's life. The most important step is to stay calm and immediately call a veterinarian.
Step 1: Check the condition of the pet. Is the pet breathing? To check put your hand one inch in front of its nose and mouth to feel for breath. Does the pet have a heartbeat? To check put your ear to the pet's chest.
Step 2: Check for a clear airway. If you have confirmed that the pet is not breathing look inside its throat to check for obstructions. To do this open its mouth and pull the tongue forward but stay alert in case of an involuntary bite. Look for any objects that might be lodged in the throat and if there is something there remove it. Dogs have very poor eating habits so it is common for them to choke on food.
Step 3: Begin mouth to nose breathing. Start by closing the pet's mouth then put the pet's neck in a straight position and breath directly into the pet's nose until you see it's chest rise. If the pet's chest does not rise repeat step 2 and make sure there is nothing blocking the pet's airway. Once you see the pet's chest rise, keep breathing into the pet once every 4 or 5 seconds.
Step 4: Begin chest compressions. Only start chest compressions after you have established the mouth to nose breathing effectively. Lay the pet on its right side so that the pet's heart is now facing up behind the elbow of it's left front leg. Press down gently on the pet's chest with your hand about one inch down for medium sized dogs and deeper for bigger dogs. For cats and small dogs push down on the chest with the thumb and forefinger. Do 80-120 compressions each minute for large animals and 100-150 for smaller pets. Once the compressions are started switch off between compressions and mouth to nose breathing.
If you feel breath or the heartbeat of the pet, you can stop giving treatment. Sadly, CPR is much more difficult to perform on pets than it is on humans, therefore, the success rate is lower. But in a pet emergency CPR is the best plan of action. CPR is also an important skill to know in order to save friends and family's lives as well. There are CPR Certification centers in San Francisco and classes that can teach anyone how to save a life.
###