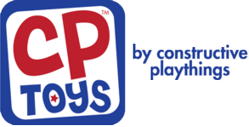 Grandview, MO (PRWEB) October 31, 2011
CPToy.com, an industry leading source for educational toys for kids, has now been officially re-branded. The new re-branding was done to eliminate confusion between CP Toys, which focuses on [kids toys for parents and families, and sister company Constructive Playthings, which caters to the early childhood education field.
Previously, CP Toys was named Constructive Playthings Parent/Family, but after the first catalog drop of 2011, this has changed. Instead, the name is now officially CP Toys to eliminate confusion with the sister division. The Constructive Playthings brand now focuses solely on institutions and is a leading resource dedicated to providing teachers and early educational professionals with classroom and daycare supplies and furniture. The change was made to make the shopping experience easy to navigate and convenient for customers, while reducing the uncertainty of website visits when landing on the sites' homepages. Parents can now easily find exactly what they are looking for when searching for at-home educational toys.
At CPToy.com you will find toys that encourage children to engage in pretend play, toys that motivate them to interact, learn, and improve their coordination skills. Everything is conveniently organized by category to help families find the specific type of kids toys they are looking for and they are also arranged according to age. Parents can find everything from science and nature toys, playsets, electronic toys; children play furniture, play kitchen toys, and much more.
U.S. Toy Company is extremely excited about the re-branding of CP Toys.
For more information about CP Toys visit CPToy.com, call our customer service line at 1-800-448-7830, or contact us via email at ustoy(at)ustoyco(dot)com.
###