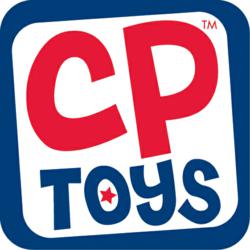 Grandview, MO (PRWEB) June 13, 2013
CP Toys - CP Toys is very proud to announce that they are now a Google Trusted Store! This honor is awarded to e-commerce sites that demonstrate a track record of on-time shipping and excellent customer service. The partnership with Google helps customers feel safe as they purchase products from the website. With the Google Trusted Store badge, you can view up-to-date stats on how quickly orders are processed and also receive free purchase protection.
About CP Toys
CP Toys by Constructive Playthings offers the finest toys to help a child grow by fostering a sense of creativity, discovery and intellectual exploration. Constructive Playthings has been serving the early childhood education market inspiring creativity, learning and family fun for 60 years. CP Toys was officially launched in 2011 to bring the same dedication to high quality educational play-based-learning to the home.
CP Toys sister brands include Constructive Playthings (http://www.ConstructivePlaythings) and U.S. Toy (http://www.USToy.com).