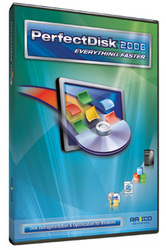 is a winner in our book
Gaithersburg, MD (Vocus) December 9, 2008
Raxco Software, the leader in disk defragmentation software, announced today that Computer Power User (CPU) Magazine has chosen PerfectDisk® 2008 Professional as the only disk defragmenter and one of just 3 System/Drive Utilities for its 2008 Head-of-the-Class Software Code. Highlighted in its January 2009 issue, in an article entitled The Tech We Respect - Our Choices of 2008's Best & Beyond, the magazine stated that PerfectDisk 2008 Professional "is a winner in our book," particularly in these tough economic times.
CPU Magazine points out that "these days of financial darkness mean there's arguably never been a time when it's paid to be especially choosy about the product you're plunking your money down on." CPU proclaimed PerfectDisk a better choice than the defragmenter that comes with Windows® or any other offering. The magazine finds PerfectDisk "wicked fast" and touted its many options and flexible scheduling.
CPU's findings coincide with a recent IDC prediction of a decline in PC shipments in the coming year. As consumers and businesses put off PC and laptop purchases, they continue to look for ways to extend the life of their existing systems, and PerfectDisk boosts performance on even older machines.
"We're honored with Computer Power Magazine's recognition that PerfectDisk is the cream of the crop of disk defragmenters and a must-have utility," said Joe Abusamra, vice president of operations at Raxco Software. "CPU joins the millions of users around the world that realize in today's tough economic times, you can't settle for second best and you need to make every dollar count. PerfectDisk delivers superior value to its users every day and provides almost immediate payback."
About Raxco Software
Raxco Software has been helping large enterprises, small businesses, and consumers with their computer resource management needs for thirty years. Its PerfectDisk 2008 is Windows® Certified by Microsoft® for Vista and Windows Server® 2008, and optimized for Windows XP. The PerfectDisk line has a long award-winning history, most notably its perfect 5-star review from CNET Download, winner of the Windows IT Pro Readers' Choice Awards for Defragmentation Utility and Storage Management Tool, Redmond Magazine's Best of the Best Award, and PC Magazine's Editors' Choice award. Raxco also produces optimization software, for HP's OpenVMS operating system. Raxco Software can be found on the Web at http://www.perfectdisk.com.
Contacts:
Sherry Murray
Raxco Software, Inc
301-519-7836
###