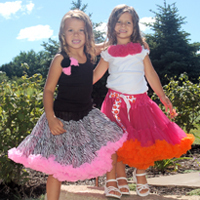 Parents who have boys understand how hard it is to find boy's clothes that aren't limited to t-shirts.
South Barrington, IL (PRWEB) May 19, 2010
Now fashion-forward children (and their parents) can find all the best kids clothes at Crab Apple Kids. Newly launched online store carries over 75 brands of the most enchanting, trendiest names in child, toddler and baby clothing. Crab Apple Kids backs up their superb selection with reasonable prices and unparalleled customer service.
"Your child is unique. Why not dress them in kids clothes celebrating their uniqueness," said Anna Incledon, CEO of Crab Apple Kids. "We are proud of our hand-picked selection for all ages – children, toddlers and babies. Parents will find that perfect little outfit no matter what their budget might be."
Crab Apple Kids carries pieces from the hottest kids clothes labels, including Anita G, Biscotti, BT Kids, Cach Cach, Corky & Company, English Roses, Harley Davidson, Hartstrings, Haute Baby, Indygo, Kapital K, Kate Mack, Katie Rose, Kidorable, Knuckleheads, LeTop, Lipstik, Little Maven, Me Me Me, Nano, Oopsy Daisy Baby, Vitamins Baby and many more. The store carries a huge selection of girl's clothing and has a large and growing selection of boy's clothes. "Parents who have boys understand how hard it is to find boy's clothes that aren't limited to t-shirts," said Incledon.
Beyond kids clothes, shoppers will find show stopping shower gifts, including personalized hair brushes, DVDs and CDs, heirloom quality christening blankets and gowns, and some very unique everyday items such as eating utensils, aprons and pacifiers.
While parents will be drawn to Crab Apple Kids for the extensive, yet affordable selection of child, toddler and baby clothing, they'll come back to the store because of the customer service.
"Many companies today claim to offer great customer service, but I don't feel the bulk of them truly understand what that means. For example, it is often difficult to find a customer service number or email address for an online business. And when you do email them, they often don't reply," said Incledon. "At Crab Apple Kids, we recognize that customer service is important. We answer each and every inquiry we receive about any aspect of our children's, toddler's or baby clothing. Happy customers, mean repeat customers. Our goal at Crab Apple Kids is simple -- provide great kids clothes with superior customer service."
Become a Crab Apple Kids fan on Facebook. Visit the store now to Splash into Summer with their extensive choice of toddler and baby clothing and swimwear. Crab Apple Kids strives to become every parent's first stop for kids clothes and gifts.
Contact:
James Incledon, Jr.
847-551-1212
pr(at)crabapplekids(dot)com
# # #