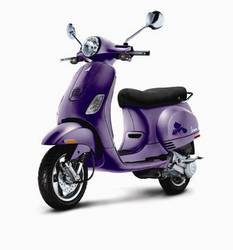 (Vocus) September 7, 2010
Crabtree & Evelyn took a fragrance journey to Italy to create Iris, their newest fragrance for the body and home. In celebration, they have partnered with the iconic Italian scooter brand, Vespa, to create three iris-inspired purple Vespa LX50 Scooters. Enter to win one online at http://www.crabtree-evelyn.com or at your local Crabtree & Evelyn store.
About New Iris
Crabtree & Evelyn's namesake, John Evelyn, explored the world to find the best that each country had to offer. Paying homage to this rich history of exploration and discovery, Crabtree & Evelyn took inspiration from a single, glorious iris bloom prized for centuries by royalty and nobility from its origination in Italy to create the new Iris fragrance for the body and home. Working with world-class perfumers they began this unique fragrance journey with the finest classic Iris rhizome - called the orris root - which is aged to perfection and then surrounded it with soft, velvety accords of violet and jasmine. Top notes of natural Italian bergamot and cassis were added to the inviting base notes of exotic sandalwood, sensuous patchouli, fresh vetiver, natural cedarwood, and creamy musk to create a modern, alluring bouquet.
The Iris collection is comprised of 14 skus including: Eau de Toilette, Bath & Shower Gel, Triple Milled Soap, Body Cream, Body Lotion, Home Fragrance Reed Diffuser, Drawer Lining Papers, Scented Poured Candle, Home Fragrance Spray and Gifts. SRPs range from $15.00-$70.00 USD. Available September 2010.
ABOUT CRABTREE & EVELYN
A pioneer in botanical formulations for over 35 years, Crabtree & Evelyn blends the very best of nature and science, tradition and innovation, and luxury and comfort to create beautifully scented and benefit-rich bath, body, and home care. This heritage is reflected in its name: Crabtree, from the crabapple tree, the original species from which all cultivated apple trees have derived, and Evelyn, from John Evelyn, the 17th century renaissance Englishman who wrote one of the first important works on conservation and whose motto, 'explore everything, keep the best', inspires the brand to this day.
Crabtree & Evelyn's eclectic product mix includes the award winning India Hicks Island Living and India Hicks Island Night Collections for the body and home which are inspired by Crabtree & Evelyn creative partner, designer, model, author, television personality, and goddaughter of the Prince of Wales, India Hicks. She has embraced the simplicity of island life in the Bahamas, which is centered on her family, and an appreciation of the nature that surrounds her.
Crabtree & Evelyn is available online and in more than 40 countries, with over 6,000 locations and 500 concept stores worldwide. For more information or to purchase products, please visit http://www.crabtree-evelyn.com or call 800.CRABTREE. To learn more about India Hicks, please visit http://www.indiahicks.com.
Recognised as an exceptional brand, Crabtree & Evelyn enjoys Superbrands status in the UK, Malaysia, Singapore, Hong Kong, Australia and New Zealand.
For further information, please contact:
Marie Nicole Feanny
Public Relations Manager
Crabtree & Evelyn - 102 Peake Brook Road - Woodstock, CT 06281-3429
Phone: 860.928.2761 x3375- Email: mfeanny(at)crabtree-evelyn(dot)com
###