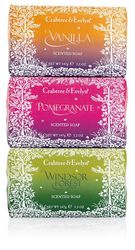 Clinton, MI (Vocus) November 17, 2010
Envelop your senses in the scents of the season with NEW POMEGRANATE, VANILLA and WINDSOR FOREST limited edition festive body care ranges which combine natural ingredients - including botanical extracts, tangerine butter, shea butter and cocoa butter - with seasonally inspired fragrance notes, to leave skin lightly scented and silky smooth.
This delectable collection features a spellbinding illustrative design and seasonally bold colourways of ruby red, royal purple, jewel-toned green and golden amber and includes Triple Milled Soaps, Hand Care Caddies, a Body Wash, Body Lotion, Body Cream and Milk Bath. Ideal for stocking stuffers and charming hostess gifts alike.
Free of parabens, sodium lauryl sulfate, phthalates, mineral oil and propylene glycol.
POMEGRANATE: Luxurious body care blended with season-inspired notes of pomegranate, citron, holly and English mistletoe – and botanical extracts of mistletoe and pomegranate blend to soothe and condition the skin.
VANILLA: A sweet, distinctly festive scent of amber and precious woods blended with extracts of vanilla and sweet almond protein to soothe and condition the skin.
WINDSOR FOREST: Inspired by the magnificent evergreens at Royal Windsor Great Park, bordering Windsor Castle, this distinctive fragrance captures the scent of crushed pine needles accented with birch, hemlock, fir and ceaderwood.
Scented Bath Soap ($8.00/5.2 oz)
Crafted by master soap makers, these limited edition soaps are blended with moisturising shea butter. Each soap is milled to perfection and fragrant to the last sliver. Available in Pomegranate, Vanilla and Windsor Forest.
Hand Care Caddy ($28.00)
Perfect for giving and holiday entertaining, this sink side caddy contains a gentle PH balanced Hand Wash (9.2 fl oz) and moisturising Hand Lotion (9.2 fl oz). Available in Pomegranate, Vanilla and Windsor Forest.
Hand Wash ($16.00/9.3 fl oz)
Conditioning, pH-balanced formula cleanses gently and leaves hands softly scented with a touch of the holiday spirit. Available in Pomegranate, Vanilla and Windsor Forest.
Foaming Milk Bath Sachet ($6.00/1.5 oz)
The bath becomes a true luxury experience when enhanced with this foaming bath milk which is enhanced with conditioning pomegranate extract and milk proteins to soothe and soften skin.
Available in Pomegranate.
Creamy Body Wash ($16.00/6.8 fl oz)
A creamy body wash, blended with conditioning tangerine, shea and cocoa butter to leave skin soft and fragrant. Available in Pomegranate.
Body Lotion ($18.00/8.5 fl oz)
A conditioning blend of sweet almond oil, tangerine butter, cocoa
butter and shea butter which is easily absorbed an leaves skin smooth and velvety.
Available in Pomegranate.
Body Cream ($26.00/7.9 oz)
Soothe winter dryness with this deliciously rich cream - a blend of silk amino acids, jojoba oil, shea butter, tangerine butter and cocoa butter that leaves skin moisturised with just a hint of shimmer
Available in Pomegranate.
Additional products available in Windsor Forest:

Home Fragrance Oil $8
Home Fragrance Spray $15
Large Poured Candle in Glass $28
Gift set of Three Fragranced Candle $32
Home Fragrance Reed Diffuser $35
Fragranced Botanicals w/10mlOil Vial $40
Figural Candle $40
Fragranced Tassel $24
Scented Sachets $20
Collectible Scented Teddy Bear $25
ABOUT CRABTREE & EVELYN
A pioneer in botanical formulations for over 35 years, Crabtree & Evelyn blends the very best of nature and science, tradition and innovation, and luxury and comfort to create benefit-rich bath, body, and home care. This heritage is reflected in its name: Crabtree, from the crabapple tree, the original species from which all cultivated apple trees have derived, and Evelyn, from John Evelyn, the 17th century renaissance Englishman who wrote one of the first important works on conservation and whose motto, 'explore everything, keep the best', inspires the brand to this day.
Crabtree & Evelyn's eclectic product mix includes the award winning India Hicks Island Living and India Hicks Island Night Collections for the body and home which are inspired by Crabtree & Evelyn creative partner, designer, model, author, television personality, and goddaughter of the Prince of Wales, India Hicks. She has embraced the simplicity of island life in the Bahamas, which is centered on her family, and an appreciation of the nature that surrounds her.
Crabtree & Evelyn is available online and in more than 40 countries, with over 6,000 locations and 500 concept stores worldwide. For more information or to purchase products, please visit http://www.crabtree-evelyn.com or call 800-CRABTREE. To learn more about India Hicks, please visit http://www.indiahicks.com.
Recognised as an exceptional brand, Crabtree & Evelyn enjoys Superbrands status in the UK, Malaysia, Singapore, Hong Kong, Australia and New Zealand.
For further information, please contact:
Marie Nicole Feanny
Public Relations Manager
Crabtree & Evelyn, Ltd. │ 102 Peake Brook Road, Woodstock, CT 06281-3429 │ Phone: 860.928.2761 x 3375 │ Email: mfeanny(at)crabtree-evelyn(dot)com http://www.crabtree-evelyn.com │ http://www.indiahicks.com |Find us on Facebook: http://www.facebook.com/CrabtreeandEvelyn |Follow us on Twitter: http://twitter.com/CrabtreeEvelyn
###