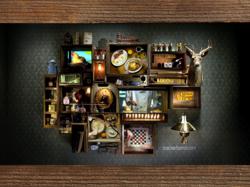 "The new campaign really captures the multifaceted experience that makes Cracker Barrel special and presents us in a fresh way," said Chris Ciavarra, Senior Vice President of Marketing for Cracker Barrel.
Chicago, Illinois (PRWEB) November 14, 2011
Since its first restaurant and country store opened 42 years ago in Lebanon, Tenn., Cracker Barrel Old Country Store has been sought out by travelers as a place for a hospitable stop with good food, honest value and a selection of unique gifts. To broaden its appeal as a local restaurant option, Cracker Barrel recently engaged Euro RSCG Chicago to refresh its brand communications – and consumers are just now seeing the first of these efforts.
"The new campaign really captures the multifaceted experience that makes Cracker Barrel special and presents us in a fresh way," said Chris Ciavarra, Senior Vice President of Marketing for Cracker Barrel. "We're excited about its potential to drive traffic with both increased frequency from our current guest base as well as by drawing new guests into our stores."
Cracker Barrel is the top Full Service Restaurant people think of while traveling, and its guest base has been loyal for decades. Through the recession Cracker Barrel's business has not experienced as much volatility as seen by many other restaurants. People love the brand because of the distinctive and authentic experience they have when visiting. The old country store's unique products and gifts, top-selling country albums guided by guest interest, and Americana memorabilia on the walls are as much a part of the experience as the warm welcome and good meals at a fair price.
Euro's new campaign, "Handcrafted by Cracker Barrel," features broadcast, digital and mobile components. These include:

Television spots using shadow boxes like on Cracker Barrel walls to tell stories about the brand. One explores the care that goes into making the food, and the other shows what it feels like to be a guest at Cracker Barrel. Both feature custom music.
Radio spots featuring the voices of actors from different local theatre groups, deepening the brand's connection to local communities. These local ties also will be extended online.
An online engagement strategy through the company's website and Facebook page. The first effort was the development of a digital, mobile checkers game and promotion that extended to a live store event.
Music releases, including album design and marketing, available exclusively at Cracker Barrel stores. The September launch of The Oak Ridge Boys' album, "It's Only Natural," was the first piece. Production is under way for the next release, due out in January.
"We wanted to capture the authentic and unique Cracker Barrel experience that brings their loyal guest base back again and again, and present it in a new way," said Jason Peterson, Chief Creative Officer of Euro RSCG Chicago. "We really felt music could play an important role. Cracker Barrel publishes and runs their own record label, and has deep roots in country music. So we created unique tracks for each of the commercials as we saw a great opportunity to blur the lines between contemporary country music and music for a TV commercial."
From a media perspective, the reach of the advertising has been expanded dramatically. Typically, 17 to 20 markets have been covered for seasonal promotions; this year, Cracker Barrel's holiday program will include national television and radio spots in more than 100 markets. Every piece of the program, broadcast or otherwise, underscores the company's mission of pleasing people.
About Cracker Barrel
Cracker Barrel Old Country Store provides a friendly home-away-from-home in its old country stores and restaurants. Guests are cared for like family while relaxing and enjoying real home-style food and shopping that's surprisingly unique, genuinely fun and reminiscent of America's country heritage … all at a fair price. The restaurant serves up delicious, home-style country food such as meatloaf and homemade chicken n' dumplins as well as its made-from-scratch biscuits using an old family recipe. The authentic old country retail store is fun to shop and offers unique gifts and self-indulgences. Cracker Barrel Old Country Store Inc. (Nasdaq: CBRL) was established in 1969 in Lebanon, Tenn., and operates 608 company-owned locations in 42 states. Every Cracker Barrel unit is open seven days a week with hours Sunday through Thursday, 6 a.m. – 10 p.m., and Friday and Saturday, 6 a.m. - 11 p.m. For more information, visit crackerbarrel.com.
About Euro RSCG Chicago
Euro RSCG Chicago is a leading integrated marketing communications agency serving clients including Groupon, Sears Holdings Corporation, Sprint, Citigroup, EFFEN® Vodka, Hornitos™ Premium Tequila, Sauza® Tequila and Pucker™ Vodka.
Euro RSCG Chicago is part of the Euro RSCG Worldwide network which is made up of 233 offices located in 75 countries throughout Europe, North America, Latin America, and Asia-Pacific. The network, named to Advertising Age's 2010 A-List and Campaign's 2009 Network of the Year, provides advertising, marketing services, interactive/social media and corporate communications solutions to global, regional and local clients. Euro RSCG Worldwide is the largest unit of Havas Worldwide, a world leader in communications (Euronext Paris SA: HAV.PA).
###