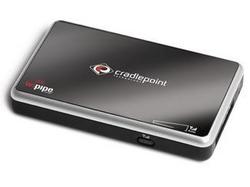 "When it comes to monitoring personal health, the immediate needs that come to mind are reliability and security of information. CradlePoint products deliver in both areas, making the CBA250 a natural choice for the Intel® Health Guide System."
Boise, Idaho (PRWEB) April 12, 2010
CradlePoint Technology, the global leader in 3G and 4G network solutions, now offers connectivity for the Intel® Health Guide System, a next-generation remote patient monitoring solution. Specifically, the CradlePoint CBA250 Cellular Broadband Adapter provides 3G connectivity for the Intel® Health Guide PHS6000, which remotely measures vital signs, conducts videoconferences between patients and healthcare professionals and delivers multimedia educational information on demand – all from the patient's home.
"CradlePoint is proud to be working with Intel® as a connection partner to deliver an evolution in health care that enables doctors and patients to maintain a close relationship regardless of location," said Ken Hosac, Director of Product Management for CradlePoint. "When it comes to monitoring personal health, the immediate needs that come to mind are reliability and security of information. CradlePoint products deliver in both areas, making the CBA250 a natural choice for the Intel® Health Guide System."
Connecting the health monitoring functionality of the Intel Health Guide with the reliable connectivity of the CradlePoint CBA250 illustrates how remote monitoring can improve quality of life and increase the efficiency of a healthcare system facing many challenges. The in-home patient can reduce some of the related costs and number of visits to the doctor while maintaining the appropriate level of care. Meanwhile, healthcare professionals can access critical patient information according to their demanding schedules.
Depending upon the need and configuration, the CBA250 can provide the primary connection for the Intel® Health Guide PHS6000 between patient and healthcare professional or be used to provide a 3G redundancy in case of network failure. The CBA250 is also in use across a number of industries that need reliable access to remote data, ultimately providing opportunities to become more efficient and enhance overall business operations.
For more information about CradlePoint products and real-life examples of how they deliver innovative mobile access solutions, visit http://www.CradlePoint.com. For additional information about the Intel® Health Guide System go to http://www.intel.com/healthcare/telehealth.
About CradlePoint Technology
CradlePoint engineers and manufactures cellular routers and software platforms that facilitate secure mobile computing via the 3G and 4G mobile broadband networks. CradlePoint's unique WiPipe™ technology provides access and traffic management to improve the security and quality of the online mobile experience. CradlePoint is a privately held company with headquarters in Boise, Idaho. Learn more about CradlePoint products at http://www.cradlepoint.com.

Intel is a trademark or registered trademark of Intel Corporation in the U.S. and other countries.
###