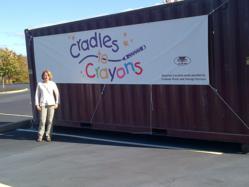 We invite all those on the South Shore and Cape Cod …to donate to the Winter Clothing Drive… and make the hope of a better life a reality for all children in Massachusetts.
Cohasset, MA (PRWEB) October 17, 2012
Graham Waste Services, the trusted leader in waste management, has announced a new partnership with children's charity, Cradles to Crayons. As the first in a series of partnership initiatives, Graham Waste Services is providing support for Cradles to Crayons' Winter Clothing Drive.
Graham Waste Services has established a permanent, central, collection site at the Cohasset Family Health Center (CFHC), a medical building in Cohasset, MA, and will transport all donated items to Cradles to Crayons' Giving Factory in Brighton, MA.

Donations for the Cradles to Crayons Winter Clothing Drive can include winter coats, hats, mittens, gloves, clothing (children's sizes 0-20), children's boots and sneakers.
Please bring them to the Cohasset Family Health Center located at 223 Route 3a, Cohasset Rear Parking Lot. There is a storage container with the Cradles to Crayons logo on it. The lock combination is 1984.
"As long-time members of the Massachusetts community and a service provider for all of Eastern Massachusetts, we see it as our social responsibility to help as many children in the Commonwealth as possible," said Lynne Schwandt owner of Graham Waste Services. "Because Cradles to Crayons no longer has offices on the South Shore and because many people from the area use the medical services at the CHFC, we have decided to form an ongoing partnership with Cradles to Crayons and locate a permanent drop box in Cohasset. Our support of the Winter Clothing Drive is a first step toward realizing our continuing commitment to helping children in need. We invite all those on the South Shore and Cape Cod who feel the same to donate to the Winter Clothing Drive when they visit the medical building and make the hope of a better life a reality for all children in Massachusetts."
Cradles to Crayons
Founded in 2002, Cradles to Crayons provides low income and homeless children from birth to 12 years old with new or like new clothing, school supplies, toys and other essential tools that help them to learn, achieve and thrive. The charity partners with social-service organizations to connect communities that have surplus resources with communities that desperately need access to those resources. It provides donations to deserving local children, for whom each donation is specifically requested. Recently, Charity Navigator, an independent group that rates charities on both their organization capacity and efficiency awarded Cradles to Crayons its highest four-star rating ("exceeds industry standards and outperforms most charities in its cause").
"When we moved our headquarters from Quincy to Brighton, we lost our permanent presence on the South Shore," said Julie Lima, Cradles to Crayons Director of Individual & Family Philanthropy. "Our new partnership with Graham Waste Services has enabled us to re-establish that presence. With an expected 17,000 requests for winter coats this year, the permanent Cohasset drop box means that more children in Massachusetts have a stronger chance to thrive. We are very grateful for Graham Waste Services' help."
For any questions regarding the Cradles to Crayons drop box in Cohasset, please email Lynne Schwandt at lschwandt(at)grahamwaste(dot)com
About Graham Waste Services
Graham Waste Services (GWS), serving Eastern Massachusetts, Cape Cod and Southern New Hampshire, has been a trusted leader in waste management for more than 40 years. It provides commercial/ residential trash pickup, recycling services and high-quality, roll-off-dumpsters and storage containers at affordable pricing. With a commitment to superior customer service, GWS guarantees knowledgeable waste management counsel, timely container drop–off, efficient billing and friendly, thorough communications with each client. For more information visit http://www.grahamwaste.com.
Editorial Contact:
Barbara Rudolph
Rudolph Communications, LLC
(781) 229-1811
bjr(at)rudolphcommunications(dot)com