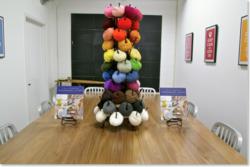 There is no knitting issue too big or too small for this weekly gathering of stitch enthusiasts
Mill Valley, CA (PRWEB) September 24, 2011
Julie Stanton of the Arts & Crafts Store in Marin County, Once Around, invites novice knitters, and knitters with years of experience to Knit Night Thursday evenings from 6:00 to 8:00 p.m. Knit Night is free, no supplies are necessary, and all ages are welcome.
"There is no knitting issue too big or too small for this weekly gathering of stitch enthusiasts," said owner Julie Stanton, "Confused about cables? Stymied by socks? Knitting newbie? Or, just looking for some crafty comrades? Come to Knit Night and we will get it all sorted out."
Once Around carries unique and high-quality craft and art supplies from around the globe. They also offer a variety of workshops and classes for beginners and experienced knitters.
Some of the upcoming craft classes in Mill Valley, includes learning to make flag banners on September 28th and October 5th; constructing a double sided child's superhero cape for a Halloween costume on October 12th; and creating a tutu on October 19th.
The informative website of Once Around is a wonderful place to find helpful hints and links for all types of arts and crafts ideas including sewing, embroidery, knitting, paper crafts, scrapbooking, and so much more. Customers may even sign up to enjoy a monthly newsletter to keep updated with the latest news at Once Around.
For more information about craft and art supplies, craft ideas, and the craft classes and workshops offered at Once Around, visit them at 352 Miller Avenue in Mill Valley; call them at 415-389-1667; or visit them on the web at http://oncearound.com.
About Once Around
The felting, stamping, book-binding, sewing, fabric-painting, wreath-making, embossing, scrapbooking, decoupage, candle-crafting, soap-pouring, glitter, embroidery, knitting and more...Arts & Crafts Store. Once Around is open Monday through Saturday, from 10:00 a.m. to 6:00 p.m.
###