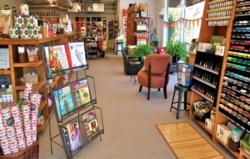 We'll be making tutus using the strip method, so no sewing machine is needed
Mill Valley, CA (PRWEB) October 05, 2011
Once Around is a one-of-a-kind, everything-you-need arts and crafts store located in downtown Marin. The store serves Marin and the greater San Francisco Bay Area. It will be offering its Tutu-torial, a tutu-making class, from 7 p.m. to 9 p.m. on Wednesday, Oct. 19.
"We'll be making tutus using the strip method, so no sewing machine is needed," said Julie Stanton of Once Around. "All participants need to bring is about five yards of tulle fabric in varying colors for a toddler's tutu, about seven yards for a child's, and about 10 yards for an adult's tutu. Elastic for the waist will be provided. Be sure to measure the waist and desired length on your tutu wearer before arriving."
Once Around, located in Mill Valley, is a family-owned and community-run shop – part craft store, part art store. Their goal is to provide customers with a fresh, inspiring and wonderfully eclectic collection of arts and crafts supplies.
Customers can find a wide array of craft supplies for felting, stamping, wreath-making, sewing, fabric-painting, scrapbooking, candle-crafting, embroidery and so much more at Once Around. So whether working on a school project, a patchwork pincushion, annual homemade greeting cards, or just looking for new craft ideas, customers can find what they need at Once Around.
There's a fee of $30 for the Tutu-torial. To register, contact Whit Halvorsen at whit.halvorsen(at)gmail(dot)com.
To learn more about Once Around and their products and services, call 415-777-7393, visit http://www.oncearound.com or stop by the store at 352 Miller Ave., Mill Valley, CA 94941.
About Once Around
Marin's Once Around is a one-of-a-kind arts and craft store that provides felting, stamping, book-binding, sewing, fabric-painting, wreath-making, embossing, scrapbooking, decoupage, candle-crafting, soap-pouring, glitter, embroidery, knitting and more. Once Around offers a wide range of craft classes to suit their customer's tastes.
###