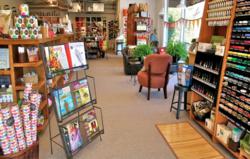 To help you along your creative way, we have combed the globe to bring you the highest quality, yummiest and most unique materials for your work
Mill Valley, CA (PRWEB) December 12, 2011
Once Around, an arts and crafts store in Mill Valley, features two classes during the month of December.
Amaze friends and family with unique handmade origami gift boxes in the Holiday Gift Box class on December 12. The origami class is great for beginners as well as more advanced students and both adults and children are welcome. The class will run from 3 to 5 pm and the cost is $30 plus $10 for materials if a student needs paper.
Get an early start on New Year's resolutions by learning how to sew! In this Tea Towel Tote class, to be held on December 28, Whit Halvorsen will show participants the B-A-S-I-C-S of machine sewing, and they'll be able to complete a tote bag. This class is a fantastic way for newbie sewers to get comfortable with their sewing machine and apply some new sewing skills. Participants should bring 2 tea towels of the same approximate size and their sewing machine. All other materials will be provided. The class will be from 7 to 9 pm and the registration fee is $30.
"To help you along your creative way, we have combed the globe to bring you the highest quality, yummiest and most unique materials for your work. The latest books, the quirkiest fabric, the unexpected do-dads that you never knew you had to have," says Julie Stanton of Once Around.
For more information about the craft classes offered at Once Around, call (415) 389-1667 or visit them online at http://www.oncearound.com. Once Around is located at 352 Miller Avenue Mill Valley, CA 94941.
About Once Around
Once Around in Mill Valley is an arts and crafts store that offers craft supplies, craft ideas and craft classes and workshops. They have supplies for felting, stamping, book-binding, sewing, fabric-painting, wreath-making, embossing, scrapbooking, decoupage, candle-crafting, soap-pouring, glitter, embroidery, knitting and more. Marin's Once Around is open Monday through Saturday, from 10 am to 6 pm.
# # #