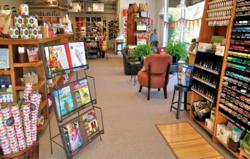 We will be constructing a double-sided child's superhero cape just in time for Halloween.
Mill Valley, CA (PRWEB) September 28, 2011
Craft store Once Around is a one-of-a-kind, everything-you-need, arts and crafts supply store located in downtown Mill Valley. They serve the greater San Francisco Bay Area and Marin County. The company is proud to offer seasonal events and on Wednesday, October 12 they will be offering a sewing class so people can create a super hero cape just in time for trick or treating or the Halloween party circuit. The class will be from 7 to 9 p.m. and registration is $30.
"We will be constructing a double-sided child's superhero cape just in time for Halloween," said Wilt Halvorsen of Once Around. "Appliqué patterns for initials, symbols for Superman and Batman and appliqué materials will be provided. If you wish to add a different superhero symbol, please contact us prior to the class so we can try to find a different pattern piece for you. Be sure to measure the child's length from shoulder to knee prior to the class."
Attendees will need to bring two fabrics, one yard each, of the participant's choice and their own sewing machine. This event is perfect for beginners to learn how to sew in an informal and supportive environment.
Once Around, located in Mill Valley, is a family-owned and community-run shop – part craft store and part art store. Their goal is to provide customers with a fresh, inspiring and wonderfully eclectic collection of arts and craft supplies. Once Around offers a range of craft classes – kids' sewing, knitting, needle felting and paper collage. They regularly offer new classes, and spaces seem to go quickly.
To sign up for this class, to learn more about future classes or about Once Around and their products and services, contact them at (415) 777-7393 or visit them at 352 Miller Avenue, Mill Valley, CA 94941. They can also be viewed on the web at http://www.oncearound.com.
About Once Around
Marin's Once Around is a one-of-a-kind arts and craft store providing felting, stamping, book-binding, sewing, fabric-painting, wreath-making, embossing, scrapbooking, decoupage, candle-crafting, soap-pouring, glitter, embroidery, knitting and more. Once Around offers different craft classes to brighten up everyone's craft ideas.
###