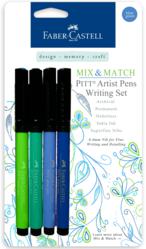 Cleveland, Ohio (PRWEB) September 23, 2011
Faber-Castell introduces two new products in the Design Memory Craft line for crafters. Thoughtfully designed around a MIX & MATCH concept, these assortments make crafting with color simple yet inspirational. Choose a color set, choose a medium, then Mix & Match as you create. The color coordinated palettes give you the freedom to design projects with confidence, knowing that the colors and mediums will work beautifully together.
It's exciting! With these new assortments, PITT® Artist Writing Pens are available for the first time ever in bright, beautiful colors with a superfine nib designed to bring vibrancy to your craft projects. The superfine nib makes it possible to achieve lines that are precise and exact - perfect for journaling, drawings, and adding details to mixed media projects.
All PITT® Artist Pens contain India Ink with some wonderful features that enhance contemporary applications: permanent, waterproof, smudge proof, optimum lightfastness, and odorless.
Each Mix & Match PITT® Artist Pens Writing Set includes 4 pens and is available in 2 color sets – Red/Yellow, and Blue/Green with a suggested retail price of $11.95.
With a wide variety of nibs and colors, PITT® Artist Pens are essential to every crafter's collection of supplies.
Take a creative journey on the Design Memory Craft website. The site features projects, techniques, and community events around the country – make sure to check out our blog full of crafting ideas, plus join our mailing list for the most up-to-date news and product information.
Faber-Castell is one of the world's leading manufacturers of fine artist materials. Founded in 1761, the company is celebrating its 250th Anniversary in 2011. Our graphite, color and watercolor pencils, charcoals, artist pens, oil pastels and more offer unlimited opportunities for creative expression and design. The Art & Graphic line features the absolute finest professional art materials, while the Creative Studio® line contains products for students and aspiring artists.
###