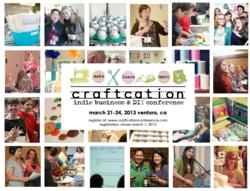 "Our objective is to ignite the entrepreneurial business spirit and strengthen skills and abilities of seasoned business owners and newcomers to indie craft business."
Ventura, CA (PRWEB) February 19, 2013
Delilah Snell and Nicole Stevenson, co-producers of Patchwork Indie Art & Craft Festival (a bi-annual Southern California event showcasing emerging artists, crafters and designers) bring Craftcation, an indie business & DIY craft conference to Ventura, California on March 21-24, 2013 at the Crowne Plaza Hotel. The first of its kind in Southern California, this beachfront three-day conference features panel discussions and DIY workshops with leading industry professionals on art, craft and food-centered small business. Recreational and networking activities such as beachside yoga, cocktail/barbeque socials, and historical/art trolley tours of Ventura promise to round out the vacation angle.
A wide range of "how-to's" catered toward the crafting entrepreneur will cover such topics as indie business start up or expansion, maximizing social media, branding, selling at craft shows and on Etsy, merchandising, accounting, legal issues, pricing and more.
A sample of DIY crafting workshops slated for the conference includes sewing, photography, knitting, jewelry making, and mixed media art. This year the conference is expanding its hands-on food classes to include artisan ice cream making, DIY bar basics, pickling/fermentation, small batch caramels and more.
Craftcation attendees will have the opportunity to learn the inside track of starting, maintaining or expanding their indie business while networking with peers/professionals and gaining skills in hands-on workshops. Not only is it a weekend packed of crafting and learning, but other social activities as well. Start or end your day with yoga or participate in their many social/networking events like "Beer Tasting & Crouqet," "Ventura Food Tour" or attend an 80's dance party.
A sample of crafting and business heavyweights slated to present include: writer/artist Kathy Cano-Murillo (author of the popular craftychica.com), her handmade "Chicano pop art" crafts have been carried in Bloomingdales, Target, and Hallmark), Cathy Callahan (featured on The Martha Stewart Show, in Sunset Magazine and author of 2011's Vintage Craft Workshop), Evan Kleiman (host of KCRW's Good Food and owner of Angeli Caffe), Aida Mollenkamp (host of The Food Network's Ask Aida and foodCrafters on The Cooking Channel), Diane Gilleland (host of the popular CraftPod podcast) and Kayte Terry (author of Applique Your Way and PaperMade).
Snell and Stevenson were motivated to provide a forum for indie business education after seeing a real need for guidance amongst Patchwork vendors. Their mission is to support, encourage and build upon the independent business & craft community.
"I've always wanted to inspire fellow business people to take that chance and just do it!" –says Snell, owner of The Road Less Traveled Store (an environmentally friendly emporium of global goods based in Santa Ana, California) and Backyard In A Jar (a line of locally sourced, organic preserves).
"Craft can make the world a better place…the feeling one gets from making something with their own hands is beyond empowering." –says Stevenson, owner of Random Nicole, a line of art-inspired clothing for men, women and children.
Whether you are thinking of starting an indie business or just want explore your creative side (or even just need an excuse to come to California), Craftcation is the place for you.
Those interested in attending can register on line at: http://www.craftcationconference.com. Registration closes March 1, 2013.