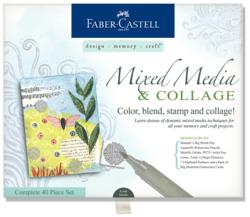 Cleveland, OH (Vocus/PRWEB) February 01, 2011
Faber-Castell is delighted to introduce an engaging new product line for crafters called design memory craft. Thoughtfully designed around a MIX & MATCH concept, these new assortments make crafting with color simple yet inspirational. Choose a color palette, choose a medium, then Mix & Match as you create. The coordinated combinations give you the freedom to design projects with confidence, knowing that the colors and mediums will work beautifully together.
Two new kits in reusable gift boxes reflect popular trends in crafting today – Mixed Media & Collage and Journaling. These kits combine the best materials with beautifully illustrated instruction cards to inspire crafters to design unique pieces that express their creative vision.
Learn dozens of mixed media techniques to enhance your memory and paper craft projects with the new Mixed Media & Collage kit. Explore layering, blending, and mixing different colors, textures, and materials for a variety of results using 3 Art GRIP® Aquarelle Watercolor Pencils, 1 PITT® Artist Pen, 1 Stamper's Brush Pen, and 1 Metallic Gelato stick on an assortment of design papers. Other supplies include a stamp, Gesso, pencil sharpener, lace, and more. Repurpose found objects by adding them to your projects in meaningful ways. Mixed Media & Collage involves elements of traditional art materials, scrapbooking, stamping, and collage with amazing results. Suggested retail price $29.95
Keeping a journal is a private means of self-discovery and remembering daily life. Try the new Creative Journaling kit to create a keepsake journal full of art and soul. Creative Journaling combines a love of writing with visual images that complement the words – the ultimate form of self-expression. Use 3 Art GRIP® Aquarelle Watercolor Pencils, 3 PITT® Artist Pens, and 1 Graphite Pencils along with an assortment of design papers and illustration boards to form your journal. Other supplies include Gesso, Paintbrush, pencil sharpener, and more. Let your thoughts, dreams, and memories inspire the Creative Journaling process. Suggested retail price $29.95
Join us on a creative journey at http://www.designmemorycraft.com. The site features projects, techniques, and community events around the country – and make sure to check out our blog full of cool crafting information, plus the video gallery to see projects other crafters have done using Faber-Castell products.
# # #